Little Golfer in his Golf Cart Baby Costume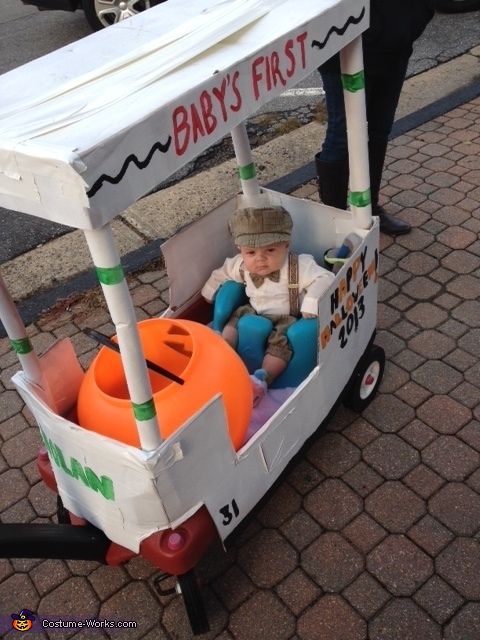 Caddyshack
More views:
(click to enlarge)
A word from Amy, the 'Who's Your Caddy?' costume creator:
This is Nolan Casey, 3 months old of Ridgely, Maryland.
Nolan is a sweet little golfer riding in his home-made golf cart. Nolan's daddy is an avid golfer and wanted to follow in his foot-steps. Constructing this costume was very simple. We used a step 2 wagon (seats 2) and construction the golf cart around it. The base of the golf cart is one large cardboard box that fit right over top the wagon. We cut out the shape we wanted for the doors and trimmed around the wheels. The posts are made from wrapping paper tubes. We used duct tape to hold them into the canopy and the base of the cart. The canopy is another large box that was just cut short and set right on top the posts. They were taped in as well. We used white spray paint to color the boxes. Regular paint would work just fine. Any design could be painted on the cart that works for you. With Nolan only being 3 months old and not able to sit up completely on his own we placed him in his bumbo seat inside the wagon. He also had a set of baby golf clubs, ball and tee. Nolan was sporting plaid knickers, a white collared shirt with matching plaid bow tie and hat. He also had white booties with pom-pom balls on top and baby suspenders.