Weeping Angel Costume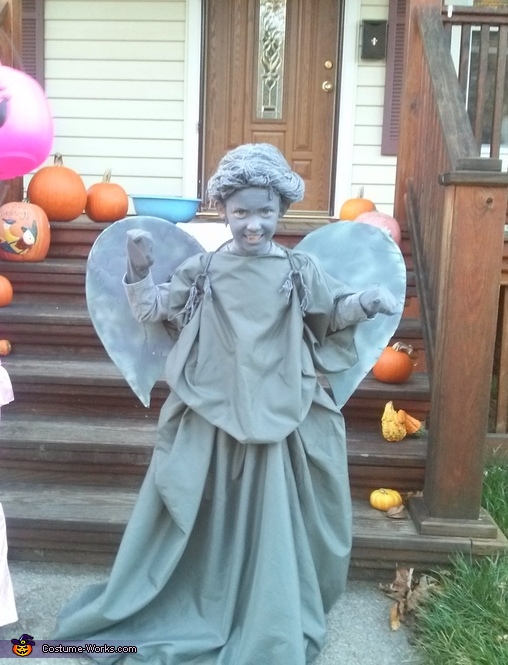 Weeping Angel in alert pose.
More views:
(click to enlarge)
A word from Eileen, the 'Weeping Angel' costume creator:
This my daughter Caoimhe in her Weeping Angel costume. It is based on a Dr. Who baddie - "the only psychopaths in the universe to kill you nicely" as the Doctor put it. They are stone angels who only come to life when you're not looking - but if you look away they can get you. So once you see one, you can never look away, or even blink - they are that fast!
This is a home made costume and took about 3 weeks to make. We have a chilly climate at this time of year, so it was imperative that she could be warm. Luckily, the skirt is so voluminous that she was able to wear a couple of pairs of leggings. On top she had a grey long sleeve T-shirt, and grey tights over her hands.
The hair was made using a swimming cap (placing it on a head form for stability), and overlaying it with grey yarn. I wrapped the yarn around a large book lots of times, and then cut through all the strands, so they were the same length. I recommend making the hair longer than you think you'll need, as you can always trim off the excess. I laid the strands in small batches (gluing each set down) across the cap, then sewed down the middle with a strand of yarn to make the "parting". Then I styled the hair into a loose updo and glued it in place as much as possible.
The dress was simple and based on the idea of a Greek "chiton". It is essentially a square of fabric, folded in half to make a rectangle. The fold line of the rectangle should measure roughly fingertip to fingertip of the wearer, with arms outstretched. A head opening was cut in the middle along the fold line, then the two short sides of the rectangle were sewn together, leaving enough of an opening at the top for arms to protrude. A crocheted belt in the same yarn as the hair was tied firmly around the waist, and the dress length shortened as needed by pulling it up and letting it pool around the waist. An inexpensive grey polyester fabric was used, almost like a tent fabric.
The wings were made from foam board. I drew a wing shape and cut 2 of them out with an x-acto knife. I taped them together to meet with silver duct tape, then spray painted with a stone-look grey paint. I crocheted lengths of yarn to make two "straps" to hold the wings over her shoulders, and also tied them to her belt at the back to keep them secure.
I mixed black and white face paint to match the grey of the dress, and applied it liberally wherever her skin was showing.