Ursula: Sea Witch Costume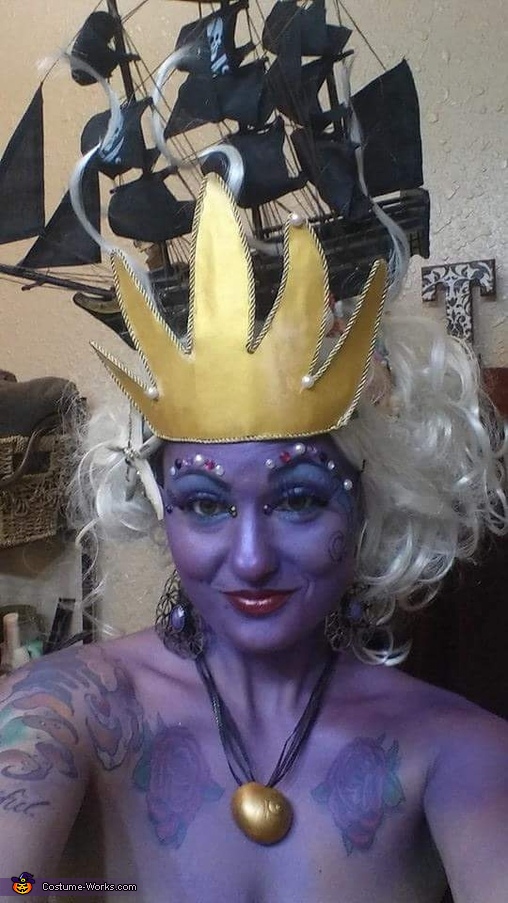 Ursula: Sea Witch Costume
More views:
(click to enlarge)
A word from Kellie, the 'Ursula: Sea Witch' costume creator:
This is my Ursula costume, worn by me! Ursula is the sea witch from The Little Mermaid for those who may not know. The inspiration came from this being my favorite childhood movie and loving the epic scene where Ursula steals King Triton's crown and trident and rises up out of the ocean with the ship on top of her head! My grandma, an amazing seamstress, took an old black prom dress and cut out the tentacles, stuffed them with stuffing and a wire to make them formable, and sewed them shut using purple satin on the underside. Then she attached the suckers on every tentacle. I had over 80 suckers!! Then I took a white wig and attached a ship I bought at Hobby Lobby onto a headband and secured it to the wif, hiding the headband with seashells. Then I swirled some hair up through the ship's masts and I secured a crown I made out of gold cardstock and a headband to the front of the ship to convey they scene from the movie I described above. Since the wig was a little front heavy, I put my real hair in two pigtail buns, and took some wooden dowels I had attached gold painted seashells and starfish to, and once the wig was on my head, I stuck those wooden dowels down through the wig and through my buns underneath to secure the wig to my head. The decorated dowels just looked like more seashells in my head piece! Since she also stole King Triton's trident I took a devil's pitchfork costume prop and glued a bunch of seashells and starfish on it that I purchased from Hobby Lobby. Once they were all glued on I sprayed the entire thing bronze with gold highlights. Then for the infamous voice stealing seashell necklace, I took a seashell I had bought at a souvenir shop in California and painted it gold and attached it to a black ribbon. It was perfect! Then I took some costume fingerless wrist gloves and glued rhinestones and more painted seashells on for an added flare to the costume. I had an old black belt with a silver seashell in the middle, which accented the dress nicely. For my makeup, I airbrushed and eyeshadow-ed myself metallic purple, using a piece of fishnet to add a few "fish scale" patches, glued rhinestones to my face for sparkle, attached purple fake eyelashes, and did the classic Ursula red lip and blue eyeshadow.

This costume was SO very much fun and has been worn for not only Halloween but a Cosplacon event, as well!