Uncle Sam and Rosie Costume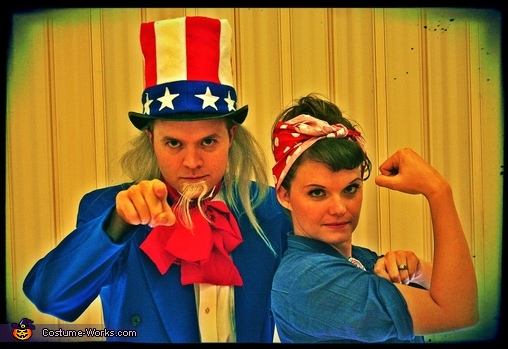 Uncle Sam and Rosie
A word from Celeste, the 'Uncle Sam and Rosie' costume creator:
My husband and I went as iconic vintage political posters this year.

We shockingly already had almost all the materials needed. My husband has a blue zoot suit from dancing in the opening ceremonies for the 2000 Olympics in Salt Lake City, so we got the blue blazer from that. His wig is actually a beard we stuffed in his hat (we had the beard from a previous gandolf costume). His gross goatee is a piece of another wig glued to his face. We got his hat at a thrift store and his red cravate is just a piece from my sewing stash. You can't see his legs in this picture, but we put red duct tape stripes on some white pants.

My costume was easy peasy. I already had the shirt, I just RIT died it "denim blue." I bought a little strip of red and white polka dot fabric for the bandana, printed off a union pin and that was pretty much it.