Two if by Sea, Paul Revere and the Old North Church Costume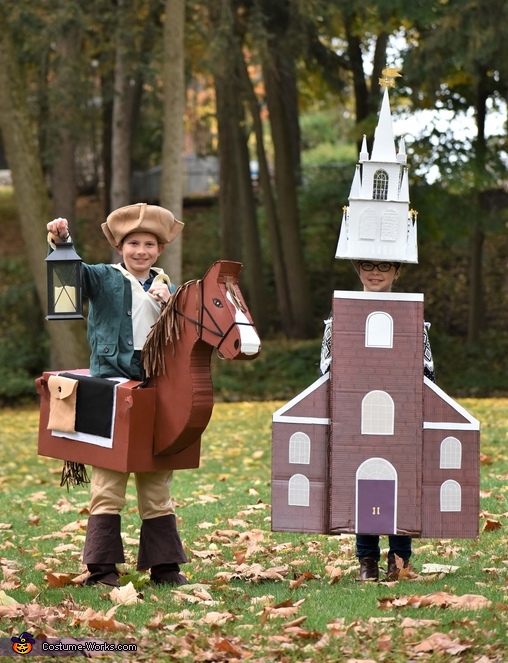 Two if by Sea, Paul Revere and the Old North Church Costume
More views:
(click to enlarge)
A word from Lindsay, the 'Two if by Sea, Paul Revere and the Old North Church' costume creator:
Whose kid wants to dress up as a historic church for Halloween?!?! Mine.

My two children are homeschooled and are studying American history this year, which is what inspired this costume duo.

This costume, which we call "Two if By Sea", is a cardboard tribute to the universally captivating story of Paul Revere's historic "Midnight Ride" in 1775 in which he instructed that two lanterns be hung in the steeple tower of the Old North Church as a warning signal for the Patriots that the British attack would come by sea rather than by land. He then rode across the New England countryside warning of the impending attack. This event had major implications for the American Revolution.

Some artists work in oils, watercolors, textiles.... My medium is cardboard and hot glue.

We happened to have just purchased some new garage shelving, and we were able to make use of all those packaging materials to build these costumes. We consulted numerous photos of the actual Old North Church and designed the costume to match as closely as possible. I cut, shaped, and glued the various elements for the horse, the church, and the steeple headpiece and then spray painted everything. We then went back and added all the details such as stenciling all the bricks onto the church, using raffia for the horse's mane and tail, construction paper for the church windows, etc.

I consider the church steeple headpiece to be my midlife masterpiece. My favorite element of it is the two tiny handmade lanterns that actually light up in the church belfry. Now that Halloween is over, we are enjoying it as a dining room centerpiece.

I am still healing from the many hot glue burns and blisters I acquired while working on this project, but it was worth it to see my kids so excited about their totally unique (and totally nerdy) costumes.

We gained a lot of historical knowledge and made some fun memories building these costumes together. We hope you enjoy them!