Light-Up Thunderstorm Costume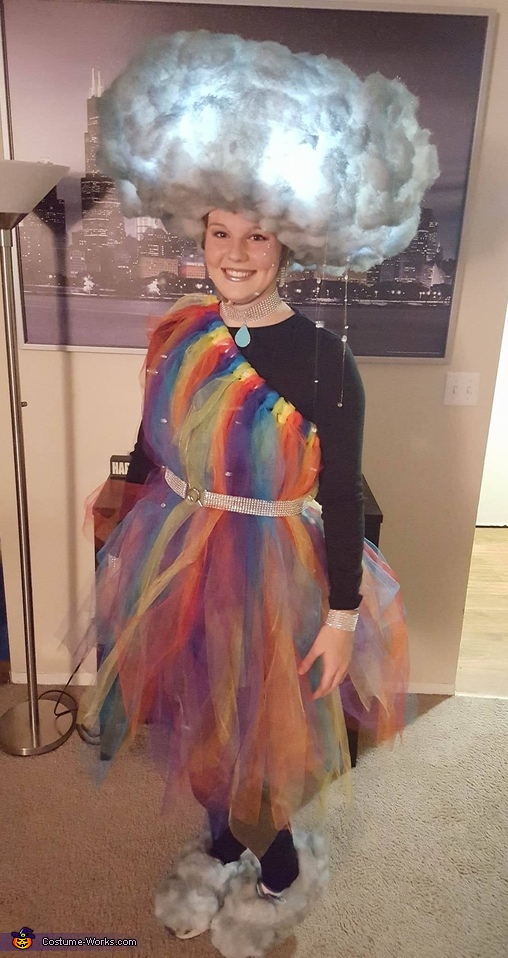 Costume Picture #1
More views:
(click to enlarge)
A word from Lisa, the 'Light-Up Thunderstorm' costume creator:
Worn by: Lisa Michaels

Idea: I am a meteorologist and wanted to do a fun and cool weather design!

Homemade Materials:
-Polyester Pillow Fill
-LED String Lights with flash mode
-Grey Spray Paint
-Hat
-Multiple Colors Tulle
-Elastic Band
-Beads & Clear String
-Decorative Belting

Cost-$60

How to make it:
Cloud Hat-Take a hat (one that fits your head) and glue on a layer of polyester pillow fill. Add the LED string lights on top of the polyester fill. Then glue on more polyester fill over the lights to desired thickness. Spray paint the polyester fill on the outer most layer of the hat at the end. Attach beads to clear string to look like rain. Glue or tie clear string with beads onto the brim of hat.

Rainbow- Take elastic band and sew to desired length around body. Cut strips of tulle to desired length. Attach to elastic strand by doing a loop knot (look up videos of how to make a tulle tutu skirt. This is the same method on how I made the rainbow across the body) I bought decorative belting and made a belt, necklace, and earrings out of it.

Cloud Feet- Cut up slip-on paper booties from a hardware store. Glue on polyester pillow fill to desired look. Spray paint the top when finished.