The Incredibles Family Costumes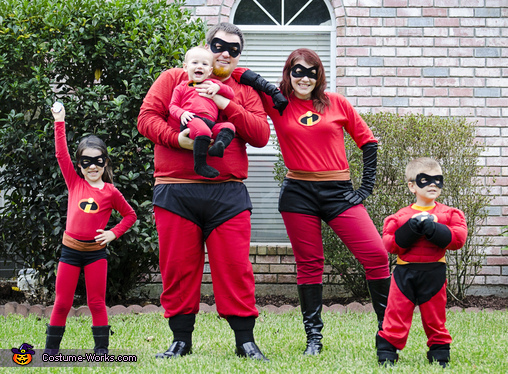 The whole Incredibles Family
More views:
(click to enlarge)
A word from Amber, the 'The Incredibles' costume creator:
Tops: I bought red shirts for everyone. You can find these at Hobby Lobby or wal-mart. My mom had an itty bitty one on hand so I had to purchase three. My mom also appliquéd our logos onto our shirts. I know I am totally spoiled and not everyone has that luxury, but you could totally make the logos with felt or printable iron-on paper or you can order the logo off of ebay or easy. Bonus: My mom made a shirt for E too so we can be a family of Supers anytime we want. In fact, there is a special place we will be wearing them in January. But shhh! The kids don't know yet ;) Total price for shirts: $15
Bottoms: I own a pair of red jeans that worked, I dug a pair of L's old baby leggings out for Coop, I found a pair of leggings on clearance for L, and I bought Cory a pair of sweats from "Wally World". The black "super underwear" were also things we dug out of our closets and drawers. L is wearing a pair of dance shorts, Cory and I are wearing pinned up gyms shorts, and Coop is actually borrowing a pair of E's underwear, with the band tucked under. Total price for bottoms: $8
Belts: 1 yard of cheap fabric, sewed two sides together and flipped it right side out. Added a piece of velcro and, Voila! Total price: $3
Gloves: (These were totally not necessary since no one kept them on) However, I did purchase a pair for myself on ebay. I purchased a pair of chemical gloves for Cory. And I purchased a two-pack of kids gloves. Total price: $11.50
Masks: Black sheet of felt. I printed a pattern off the internet and cut it out of the felt. I attached thin elastic. Total price: $.50
Hair Spray: Black, Auburn, and Blonde. We knew not to even attempt to color E's hair. Total price: $6
And finally....
Boots: I dug deep into my closet (actually they were in a give-away bag) to find my old black boots. Some like to refer to these as "street walker boots" LOL They were perfect for the costume :) L had some awesome boots. E had some black shoes that worked great. For Coop, we just put long black socks to look like boots. And Cory put on long black socks and black dress shoes. Worked like a charm! Total price: $0
Total Price for Five Costumes: $44