The Ice Queen Costume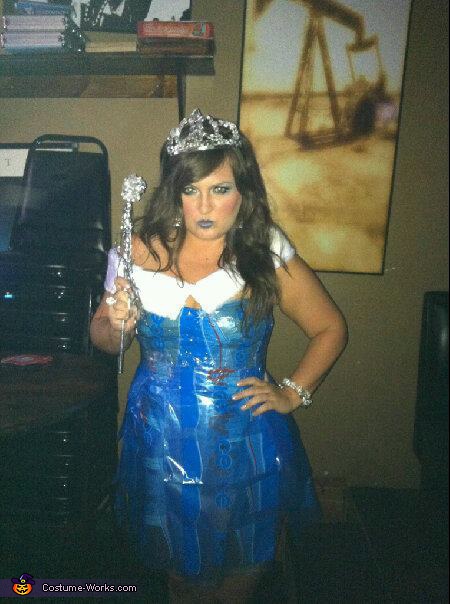 The Ice Queen
A word from Jennifer, the 'The Ice Queen' costume creator:
I made this dress from empty ice bags, duct and packing tape.
I first made a corset out of the duct tape with the sticky side of the tape facing away from the body. I cut the corset down the side to remove. Then I cut a placed the ice bags on the corset and ran packing tape over the whole thing. Then I made a skirt by layering the ice bags and taping them together. When I was ready to put the costume on I taped the corset together and then taped the skirt to the corset.
Accessories: I used fake ice cubes and a head band to make the tiara. I glued the ice cubes to an old bracelet and ring to make the jewelery and re-purposed an old wand with the ice cubes to make a scepter. I used a couple christmas decorations as earrings and cut the faux fur off a couple santa hats to make the stole.
All in all I only spent about $10 on this costume!