Fantastic Four The Thing Costume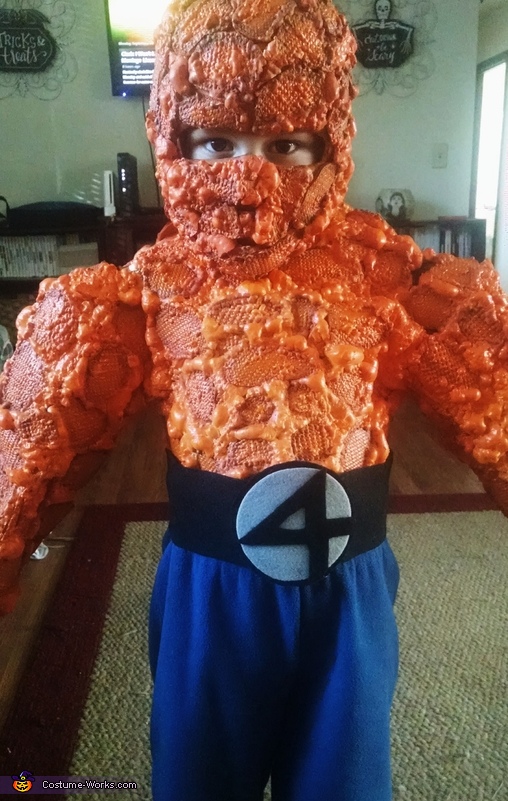 Final 'The Thing' costume for my son!
More views:
(click to enlarge)
A word from Amanda, the 'The Thing from Fantastic Four' costume creator:
This year's costume theme was superheroes. My 5 year old son had to think long and hard to pick a superhero he didn't already own a "dress-up" outfit of. Every year I make our own costumes and this year would be no different. My son chooses "The Thing" from Fantastic Four. At first I was extremely nervous and a bit worried if it was something I could pull off.
The supplies used for the costume: Most items I had on hand but estimated cost for all materials is between $40-50.
Fake muscle t-shirt
Yoga mat
Spray instillation
Orange spray paint
Brown acrylic paint
Orange zip up sweatshirt
Blue sweatpants
Black, gray and white felt
Zelcro
Glue gun and glue sticks
Cheap dollar store mask of any kind
The steps to making the costume:
First I hand drew 100ís of stone shapes on the orange yoga mat and cut them out.
I then hot glued the "stones" onto the muscle shirt.
Once all stones were on the muscle shirt I used 2 cans of spray instillation to fill in the spaces in between the stones. Let sit for 48 hours.
In the meantime I measured my son's waist and made the Fantastic Four belt using the felt and Velcro.
After the instillation was dry I spray painted the entire shirt orange and let dry 24 hours.
I then went through with brown acrylic paint and added dimension around each stone.
In order to make the shirt fit my son since it was stiff from the instillation I cut the zipper out of a thrift store orange zipper hoodie and hand sewed it to the back of the costume so my son did not have to put the customer over his head.
For the mask, I originally purchased a winter ski hat and used instillation on it like step 5 and 6 but unfortunately when it hardened it no longer fit my son's head, so I purchased a cheap dollar store mask and glued yoga mat stones onto the base and then added instillation and repeated steps 5 and 6.
This was by far the most difficult costume I have made in my 12 years of costume making. My son loves it and we cannot wait to show it off at the local Halloween Zoo event and Trick or Treating.
Thanks for reading!