The Nightmare Before Christmas Jack Skellington Adult Costume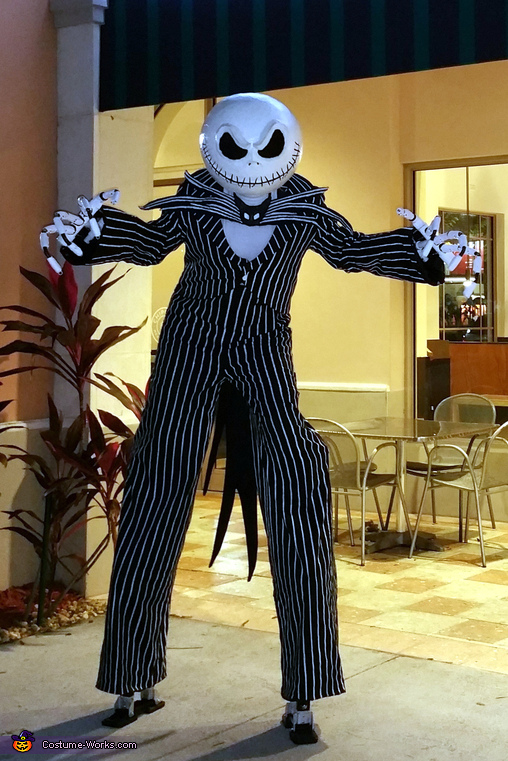 Jack Skellington from The Nightmare Before Christmas
More views:
(click to enlarge)
A word from Adam, the 'Jack Skellington' costume creator:
This costume is completely homemade that took over 4 months of design and planning for one of my favorite screen characters of all time, Jack Skellington. I first began with the design of the articulating hands which are individual controlled. I used a combination of hoses and PVC pipes epoxied onto full springs. I then used sprinkler hose as the liner for fishing line to have the hands fully flex. After that, I used sculpting clay to form the fingers. I then strung the hands with fishing line and extended the PVC pipe to be able to attach to my forearms with straps.
Next I began to work on the head piece. I used a beach ball and paper mache to make around 6 layers of base. Once fully dried I drew the eyes, nose and head hole onto the ball and cut out the features using a box cutter. I then removed the beach ball through the eye hole. I then used paper clay to give the head piece more strength and durability. I then used epoxy sculpt to form the eye nose and mouth features. I then worked on stitching of the mouth using a dremel. Then, spray painted the outside white and painted inside the helmet black and the mouth stitching. Once dry, I then used foam and helmet to stabilize the piece on my head. Last, I used black shear fabric to cover the eyes for one way viewing.
The suit is completely custom, and had to be tailored to fit the extended legs (I am wearing 16" dry wall stilts) and the articulating hands. The suit was then hand painted with white paint (mixed with glow-in-the dark paint for nighttime glow) using masking tape. The bat neck tie was made using epoxy sculpt and painted with glow-in-the-dark eyes. Also the head pieces features (eyes and mouth) were painted with glow-in-the-dark paint.
All in all, this project was one of my best creative projects. This costume was the highlight of all Halloween festivities and was a real crowd pleaser. My fiancé was dressed as Sally and I made her floating Zero on a leash. Young adults appreciated their incarnated childhood figures and young children were intrigued and enthralled with such an interesting costume.