The Mask Movie Costume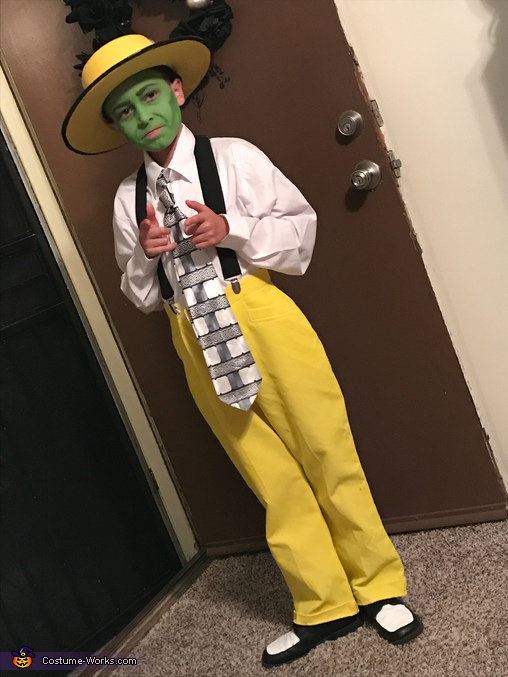 The Mask Movie Costume
More views:
(click to enlarge)
A word from Angelique, the 'The Mask Movie' costume creator:
My 10yr old son Sonny wanted to be Jim Carrey's The Mask for halloween. I purchased a kids white dress shirt, a black and white crazy looking tie, and pair of light beige pants from a second hand store. We already had the suspenders and black dress shoes. I painted the tops of the shoes with white acrylic paint.
I used a bright yellow fabric spray paint for the pants. I had to cut the bottoms of the pants and sewed the cuffs by hand, since I do not know how to use a sewing machine. I purchased a black spanish style hat that had red dingle balls hanging around the brim. I took the balls off and cut the edge of the hat to make it smaller. I bought yellow blanket fabric, cut a hole and pulled it over the crown of the hat and glued it to the brim with adhesive spray. I also sprayed the same fabric on top and around the crown to make the entire hat yellow. I then used black felt fabric to make a band and a bow to go around the crown of the the hat. I had a yellow feather and used a black permanent marker to color the ends and put on the hat. To make the end of the brim black, I used electrical tape.
For his face, I purchased 4 different colors of face paints and did the best I could to make it look like the mask instead of buying one.