The Book of Life Costume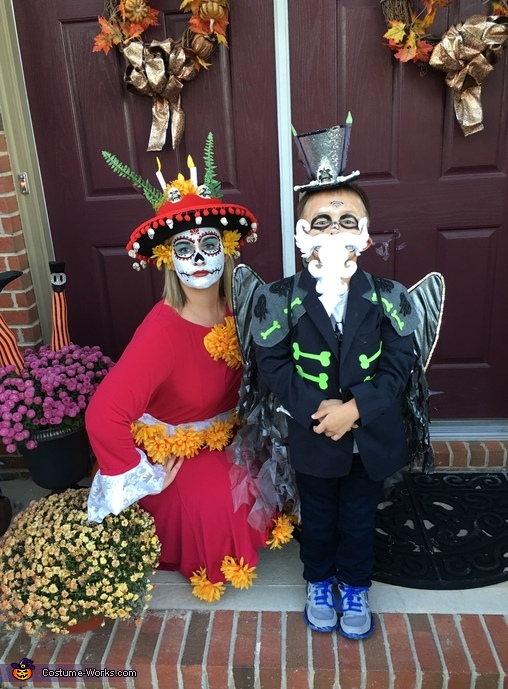 'Mummy and Me' Dance
More views:
(click to enlarge)
A word from Myra, the 'The Book of Life' costume creator:
My son, Chase Morton and I decided to dress up as The Book of Life characters for a dance at his elementary school. The characters are La Muerte and Xibalba who are the rulers of the land of the remembered and the land of the forgotten. The Book of Life is an excellent movie about The Day of the Dead. We picked these characters for a few reasons. The dance is a Mummy and Me dance the school PTA sponsors annually and this year's theme was Day of the Dead. Also, Chase is part of a Spanish Immersion program where his kindergarten class of English speaking students are taught is Spanish only. We thought this was an excellent opportunity to go along with the cultural part of his studies.

For Chase's costume we started with a blazer purchased from Good Will. We cut out pieces of felt to decorate the blazer with bones and skulls like Xibalba. We also hot glued skulls and bones to the buttons. We found a head band hat and wings at a local costume store. We added skulls and bones. We created candles by rolling up card stock and dripping hot glue from the edges to make them look like dripping candles. For a final touch we added a little make up and cut out a white swirly beard from felt, stuffed it, and sewed the pieces together.

Now for La Muerte. I found a red dress at a local consignment store. I purchased all the yellow flowers I could find from the Dollar Tree and started to attach them to the dress. A friend gave me some vintage lace which I cut in strips and sewed in ruffles around each sleeve. La Muerte's hat was by far my favorite part! I found a Spanish hat at a costume store. I cut a strip of red felt and covered the top of the hat. We gathered the various items for her hat and started to glue. A few fern leaves, mini skulls and of course more flowers! Again we rolled up card stock for the candles but this time we rolled the paper around yellow plastic spoons cut in the shapes of flames and added the dripping glue effect. We then threaded even smaller skulls and hung them from the brim of the hat. A little make up, a few stick-on gems and tattoos and we were ready to party!

Needless to say we had a great time dressing as characters from one of our favorite movies!