Teen Titans Raven Costume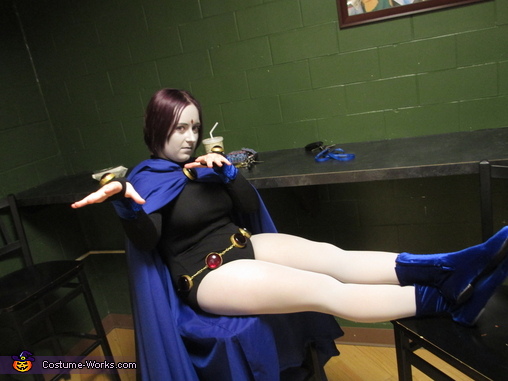 Lazy Raven
More views:
(click to enlarge)
A word from Leanne, the 'Teen Titans - Raven' costume creator:
In just the past year, I've become a huge fan of the Teen Titans cartoon, and I just knew I had to create a Raven (my favorite character) costume for Halloween for myself. My intention was also to make it as high-quality as possible so that it could be used as a cosplay for a local anime convention in the spring.

Needless to say, as my first major sewing/costuming project ever, it took me quite a while and involved plenty of trial-and-error. I was able to find an easy pattern for a full circle cloak on the internet, but it still took a while to sew by hand without a sewing machine. The cloak is made of broadcloth, while the boots and cuffs on the gloves--which I also made--are stretch velvet. The boots were boot covers made by tracing around foot on two layers of the fabric and sewing them together before gluing them to a cheap pair of flat shoes. The gems were cast from epoxy resin and backed with aluminum foil for extra sparkle; their settings were molded from clay then painted gold. For the belt I bought some heavy-gauge jewelery chain and cut it into sections, then attached a loop of gold wire to each end of each section, then stuck the end of each wire loop into the soft clay discs. After the clay dried and before painting I secured the wire with hot glue.

Everything was handmade except for the leotard and tights (and of course the plain black gloves and shoes that served as the "base" for the finished gloves and boots, respectively). I decided to go with Ben Nye makeup, and bought purple colored contacts as well. My hair was already of a similar style to Ravens, and I had dyed it purple prior to Halloween; the color isn't a perfect match, but it seemed a waste of purple hair to cover it with a wig. The total cost of everything was about $100-$150, not including shipping costs of items bought online.

Overall, my costume was a big hit with friends and strangers alike at the Halloween party, and especially with my boyfriend (a fellow Raven fan). I had more fun than I probably should have pretending to be moody and anti-social on Halloween, but hey, what's a costume without the character? :P I can't wait to cosplay as Raven again in the spring.