Team Umizoomi Costume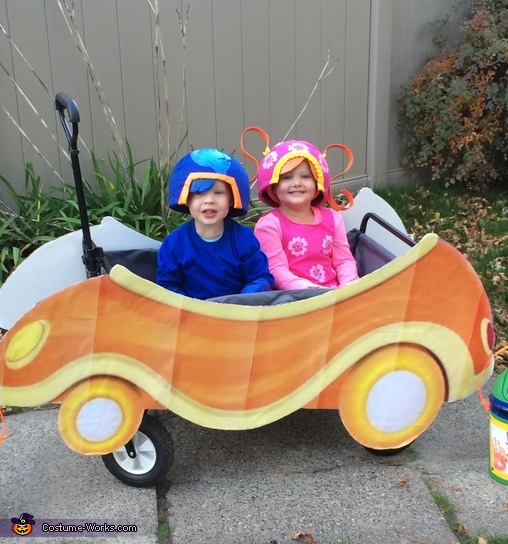 Team Umizoomi
More views:
(click to enlarge)
A word from Kathy, the 'Team Umizoomi' costume creator:
Milli costume
Helmet: paper mâché over a ball, covered in fabric and lined with yellow ribbon. Painted flower pattern with a stencil and fabric paint. Pig tails are metal wire covered in orange duct tape. Dress: sewn with pink fabric and painted same flowers as the helmet. Wearing pink pants and long sleeve shirt purchased from a store under the dress. Shoes are crocs.

Geo costume:
Helmet: made with paper mâché over a ball, covered in fabric and lined with orange duct tape. Antennas are red Sorry game pieces. Painted blue stripe with fabric paint. Belt: a child's play construction belt wrapped in orange duct tape with foam shapes glued on. Shirt and pants purchased at a store, ends of sleeves painted with blue fabric paint. Shoes are covered with fabric.

Umi car: printed poster from picture online, attached to cardboard and taped to wagon.

Not buckets: small bathroom garbage cans spray painted green, taped top and bottom together with blue duct tape and mouth and eyes drawn on with black permanent marker. Belly screen is white paper attached with yellow tape.