Super Mario Costume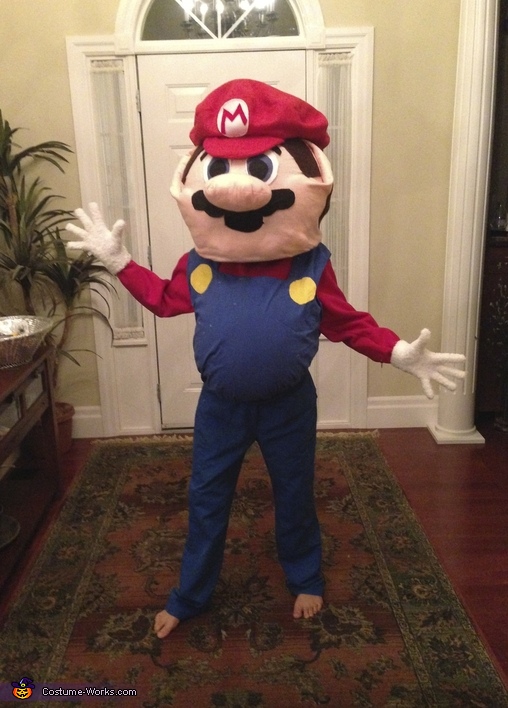 Here's the finished Super Mario!
More views:
(click to enlarge)
A word from Heidi, the 'Super Big Super Mario' costume creator:
My 12 year old son is wearing the costume. All his friends are going as Mario Brother characters and he wanted to do something special. We used your site as inspiration. We started with a paper mache head that cracked! I almost went to get the store bought boring Mario costume until...I read somewhere online that an upside down witches cauldron could work. Brilliant! The day before Halloween I got the last one at a halloween store. It was fate! I worked all day with felt and spray glue. I found a you- tube video (Becky Blow) on how to make a mario hat and I super sized it! I found blue hospital uniform at a thrift shop and just cut the top into the overalls shape. I also found a round sofa cushion at the thrift shop to act as the belly. We screwed an old baseball helmet inside the cauldron head to give it a nice snug fit. Used cut panty hose and glue gun to cover the mouth opening so my son could see out - but no-one can see in. He loves it!!!!!! The whole thing took me about 10 hours to make and supplies included: $20 cauldron, $15 felt, $15 spray glue, $10 thrift shop clothing = $60 Small price for a very happy son. A great bonding experience to build together with your kids and show the creative spirit of halloween.