School Bus Costume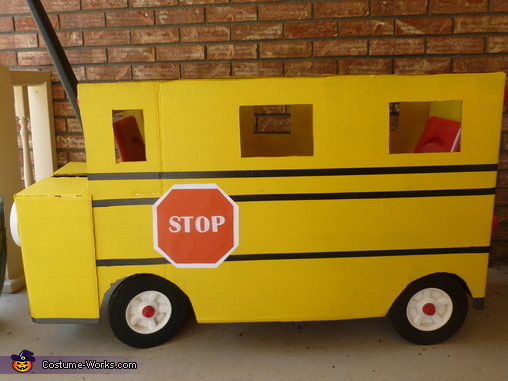 School Bus
More views:
(click to enlarge)
A word from Sarah, the 'School Bus' costume creator:
Our two year old little man LOVE buses, so it was a pretty simple decision that he was going to be a bus for Halloween. We designed it around a plastic Radio Flyer wagon. My husband built a wood frame to sit on the outside edges of the wagon with using the seat backs as a way to hold the frame in place. The nice part is everything attached to the wood frame or other parts of the cardboard so there is no damage to the wagon.

We then used poster paper for a general template to get a rough outline of how we wanted it to look. We then transferred it to a huge box and cut it out (no windows at this point). Next we tried spray painting it yellow, but it didn't give us the brightness we were looking for. We ended up using leftover yellow interior paint we had.

Once the sides were dry we stapled them onto the frame. We then used a separate piece of cardboard leftover from our huge box (but a smaller box would also work) to do the hood of the bus. We stood the bus up on it's end to tape the hood onto the side, we had it overlap on the outside for extra stability. We then worked on cutting out the windows and using black electrical tape for the lines on the sides and the outlines of the doors. We had to do the lines twice because we pulled the tape to tight the first time and it came off overnight.

The lights are functioning tap lights. The front white lights are ones that get hung up by a nail so we used plastic wall anchors that had a plastic nail as apart of the anchor and taped the anchor on the inside. The red lights are small tap lights with red tissue paper taped on the front. The red lights initially had tissue paper all the way around and we used small 3M tape to hold them on. But it didn't hold up in the cold on the first test ride out so the tissue paper was cut back on the back side to reveal the original 3M tape that was included on the lights. To get the strip across the front that has lights to stay we used small metal L brackets on the corners and ducked taped them on. This helped a bunch with the weight of the lights.

The bus was a HUGE hit with our little man and also all of the kids at our neighborhood school. The lights actually were nice to have during Trick or Treating at night.