Rescue Bot Heatwave Costume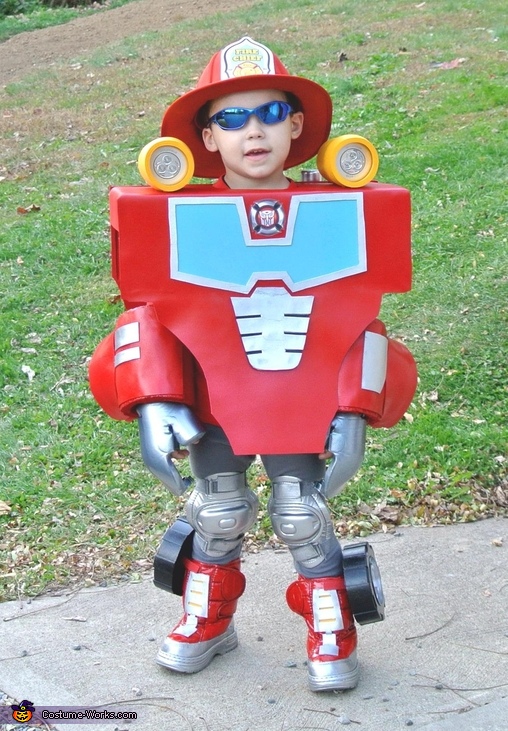 Front View
More views:
(click to enlarge)
A word from Jamie, the 'Rescue Bot Heatwave' costume creator:
My 3 year old son is wearing the costume. His favorite Transformer is Heatwave the Rescue Bot, but aside from a cheesy store bought version that looked nothing like the actual robot, there were no templates or instructions for this particular character. I found a picture of a mascot version that was used at Comic con (attached photo #5) and used that as the model for our costume. This was a no-sew costume. Everything was hot-glued. Items that were bought and used, as is: Hat, sunglasses, silver sparring gloves.
The body: Constructed from a cut box, covered with foam. The lights are foam drink koozies with stick and click lights in the tops. In picture #3, the lights are turned on. The blue for the windshield is a laminated piece of paper. All other accents on the body are cut pieces of foam. Ladder on the back of the body (picture #2): Constructed from paper towel rolls, covered with foam and topped with soda stream caps. Arm bands: 2 pieces Cut from foam swimming noodle. Wheels: taken from plastic toy dump truck. Knee "hinges": store bought knee pads, spray painted silver. Boots: spray painted snow boots with foam accents attached. Essentially everything was spray painted to the needed color except the first items that were bought and used as is.