Really Transforming Transformer Costume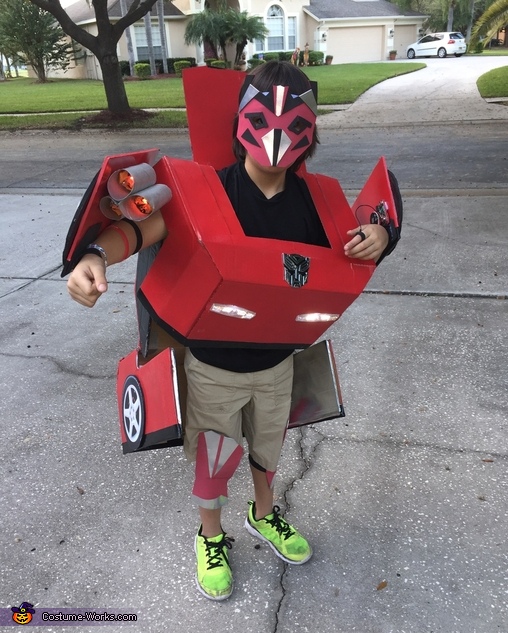 Really Transforming Transformer Costume
More views:
(click to enlarge)
A word from Emily, the 'Transforming Transformer' costume creator:
If you want to see a video of the transformation and hear the sound effects you can go here:
https://youtu.be/mKb4I1oclv0

I have a 10-year-old stepson and our favorite thing to do together is decorate for and celebrate holidays and special occasions. This year when we asked him what he wanted to be for Halloween he said without hesitation "I'm going to be a really-transforming Transformer!" His dad and I looked at each other like "yeah, right…" But he was so excited about it and it was such a creative idea I knew I had to figure out how to engineer this. My mom always made me awesome Halloween costumes from scratch. Those are some of my favorite memories, and I wanted him to have them too.

One of the things that makes this a great costume is the fact that it's almost completely made by making creative use out of items found around the house. I probably spent about $30 on supplies – that's it!

I used to medium sized cardboard boxes for the trunk and hood and created a bridge between them that encompasses the front and rear windshield, the roof and side windows. The doors are made of foam core board and worn on the forearms. So the whole thing is just three pieces.

Once everything was mapped out and hot glued together (this project required a LOT of hot glue!) it got a coat of glossy red spray paint and then it was time for the fun part – the details! The details are the best part for two reasons: you get to be super creative and this was the part that the kid and I could work on together.

Using black duct tape, we gave our car racing stripes. We also put a band of black duct tape around the bottom of the car to give the illusion that it was sitting off of the ground. We used black acrylic craft paint to define the front and rear windshield and the side windows.

For the wheels I printed out photos of sports car tires on to label paper, which we applied to foamcore board and then cut out. We colored in the edges with black sharpie and hot glued them onto the car. Used the same process to make the vanity license plate: TRNS4MR (just for the record I wanted it to say THX4CANDY but I got vetoed!) and glued on the Autobot symbols, one of the few items we purchased for this project.

To make working headlights and taillights we had to get really crafty. For the taillights, I cut a plastic leftovers container in half on the diagonal, then did a little creative cutting with an X-Acto knife on the back corners of the car. I glued the plastic into the hole and attached a red bicycle safety light on the inside. On the front, I attached a reflector taking off an old bicycle wheel and attached a white safety light on the inside. Voilà, headlights! (And a built in flashlight/safety light for trick-or-treating)

I made a mask using layered pieces of craft foam and extra shiny silver duct tape for a dimensional look. I used the extra foam to make shinguards to extend the book to his legs and also provide some padding since he had to crouch down on the ground to transform into a car.

Everyone knows transformers have weapons when they're in robot mode, so we made rocket launchers out of paper towel tubes. I cut the tubes at an angle and we spray-painted them silver. Spray painting with kids is hilarious and I highly recommend it. Then we glued the tubes to the inside of one of the doors and stuff to them with orange cellophane Halloween treat bags. We stuck a small LED light inside the cellophane and it looked just like a fireball ready to shoot out!

The one detail that really put this costume over the top was the addition of sound effects. I ordered the electronic component from a recordable greeting card ($10 on Amazon) and programmed it with the sound effect of a Transformer changing from a car to a robot. I mounted it to the inside of one of the doors and ran a wire to a small loop of elastic with a button that he could wear on his index finger. When he wants sound effects, he just has to press his thumb to the button!

People were amazed by this costume! They begged him to transform over and over - he definitely earned all his Halloween candy! Some people were absolutely shocked when they realized there was a person in there! One guy was so impressed he gave him handfuls and handfuls of candy. It was so much fun to see him get so many compliments, but in my opinion the best reaction came from the kid himself. He really appreciated all my work, we had a great time making it together, and walking back from trick-or-treating he told me, "I knew this costume was going to be awesome but this is so much more than I ever expected."