Post-It Man Costume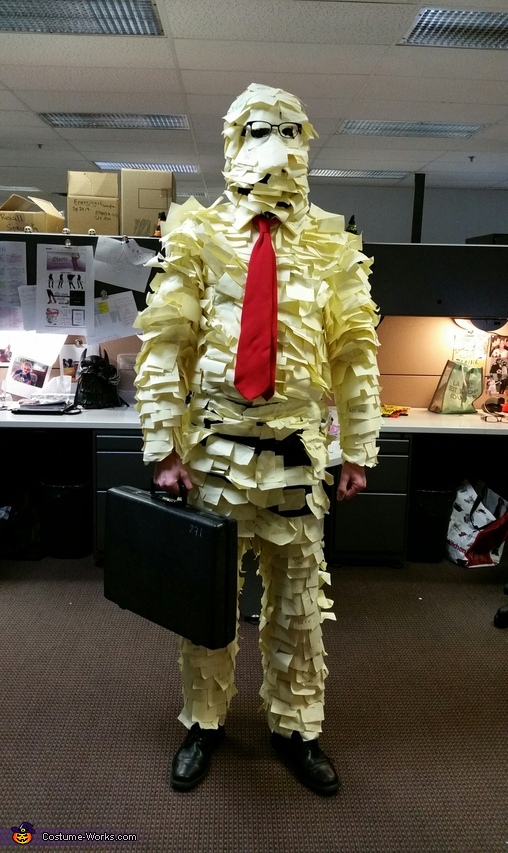 At work
More views:
(click to enlarge)
A word from Joshua, the 'Post-It Man' costume creator:
While checking Wikipedia to see if a certain actor wasnon a certain movie, I stumbled on the page for the movie Office Space. I had forgotten about the creative cover - a business man covered in yellow Post-It notes. I realized there and then that I could totally pull that off for a Halloween costume.

I spent the next week gathering my materials. At the dollar store I purchased a bellaclava for $2, and about 25 3-pack packages of post-its (1.25$/each). I then went scowering a thrift store for used clothes. I found a black pair of pants that fit me well for $4 and found a buttoned shirt that was the EXACT same yellow as the post-it's. It was perfect and only cost $8. Please note all venues are in Canadian dollars (Im from Canada). I already had a bright red tie and the last item I needed was a briefcase but none were available at the store I was in. So, that had to wait for another day, but getting everything in End of September was record breaking for me :)

I got busy with life and the materials sat in my apartment for a week or two. With Halloween fast approaching, I had to get started on the costume.

First thing I did was alter the ski mask. It was doubly layered and I knew that meant I would get very hot wearing it, so I cut it open on the inside, making it single layered. This also make the neck longer which was great for tucking into the buttoned shirt. The mask has one big eye hole and wanted two smaller ones, so I sewed the middle shut.

Now came the tricky part. Attaching the post-its. I did a quick google search and had found others who dressed up in similar costumes but was not content on how they did it. Mostly just sticking the post-it's to their clothes with the glue from the post-it itself or using scotch tape. If I was going to spend hours making this thing, I wanted it to last. My solution was to hot glue each post-it one by one.

I started with the mask. At first I was going to lie it down and attach each post-it, but quickly realized it would look too uniform and also not take I to effect the roundness of my head. The only solution I could think of was wearing it while glueing it. Not to burn my skin, I made a paper mask out of computer paper and tape, and wore that first. This gave me a layer of protection from the glue. It took me between an hour and two hours to complete. I missed a few spots and wasn't thrilled with how it turns out around the eyes but it fit me well and I could breath. I knew I had a lot of work ahead so I put the mask aside for another day.

Over the course of just over a week, I would come home from work and spend 2-3 hours covering my skin in newspaper, putting on the pants or buttoned shirt and got glue posts it to me. For the back of the pants, I wore them backwards. Once the pants were done, I moved onto the buttoned shirt. by now I had figured out that te newspaper wasn't the best insulation and using scrap cloth was much better.

The shirt was tricker. First I had to alter the size as it was too large on me and when tucked into the pants it ballooned out, making attaching the post-it's virtually impossible with all the folds and wrinkles about. To fix this, I measure how tight it make it, and made two folds in the back of the shirt. I glued both down on the inside and outside of the shirt and covered the seams with duct tape to reinforce. I applied the post-its to the front while wearing the shirt but resorted to wrapping it around a pillow to do the back.

By now it was Friday night before Halloween and I was to go to a party that night at a bar, but still had the arms to finish! For the arms I stuffed them with newspaper to get the full shape and then applied the post-its.

The final touches were needed before I could head out. I redid the front of the mask. This time i covered the eye holes with a full post-it each and then cut out the eye holes to be able to see, covering the black mask completely. I need to wear glasses to see and coincidentally in the photo, the business man has glasses on, so I cut tiny holes in the mask near my temples so my glasses could slide in and Sit well on the mask. I also cut a hole by the mouth so I could breath and drink but kept it covered with a couple of post-it's. I made sure that I left the pockets functional. For the shirt and pants, I removed all the buttons and replaced them with Velcro to make it easy to put on and take off.

Having secured a plastic briefcase for $4.50 the day before at another thrift store, I had all my pieces in play. I put on the pants, put on the shirt and tucked it in, put on the mask and tucked that it in. With the tie, glasses and briefcase in place, I was now covered head to ankles in post-it's and ready to head out!

That night I went to a pinball bar. Upon arrival I blew everyone away. Before I could put my coat away a bartender handed me a free shot. I spent the whole night at the bar talking to people, having my picture taken and eventually i won the costume contest unanimously. My prize was tow free drinks.

Saturday night I went out to a house party. Again I blew away my friends and guest I met that night.

Monday, Halloween Day, I brought the costume to work and wore it the entire day. Everyone at work loved it but by the third day wearing it, it started to unravel. I started MOLTING! By the end of my day, my entire butt was post-it-less. Before heading home, I unfortunately has no other choice than to throw it out.

Regardless, it was probably one of the best costumes and best Halloweensive had so far.