Pebbles and Bam Bam Costume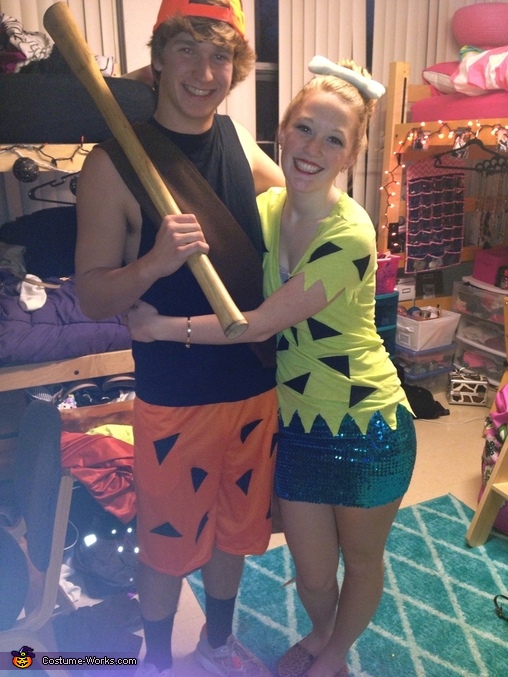 Such a fun night as pebbles and bam bam!
More views:
(click to enlarge)
A word from Carissa, the 'Pebbles and Bam Bam' costume creator:
So this is my boyfriend and I on Halloween night! We did this project very last minute and it was super easy! (Except stressful waiting until the last minute). The original idea came from my nickname when i was little. I had a little tuff of red hair in huge too of my head so they used to call me pebbles. I thought it would be a cute idea to make my boyfriend bam bam!
I ordered the skirt off of eBay for around $15 I think. I don't remember the exact price but it wasn't very expensive. That's also where I got the bone for my hair.
His outfit was just some orange shorts from Walmart, a t-shirt he had at home, some brown fabric from any fabric store, an axe without the axe part, and a $2 hunting hat from Walmart.
My outfit was just the skirt off of eBay, a cheap green shirt I had laying around that I cut up to look raggedy, and the bone off of eBay as well.
I took black felt and cut it up into triangles and glued them onto his shorts and hat and my shirt with felt glue which is super cheap from Walmart.
Once the outfit was done I dressed it up with some red lipstick and caveman looking jewelry. It was an awesome night and we got a lot of compliments!