Party Rockers Costume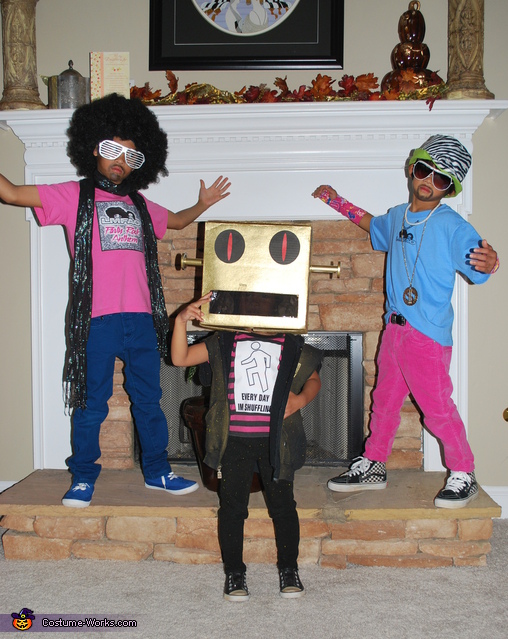 Manuel Crew LMFAO Party Rockers
More views:
(click to enlarge)
A word from Diane, the 'Party Rockers' costume creator:
Our idea came from the biggest summer music band/song LMFAO Party Rock Anthem.
Our daughter mentioned wanting to be a robot for Halloween, so that is where the inspiration came from.
I had a random box that that was the perfect proportion to her petite 4 year old self. I placed her baseball helmet in the inside of the box as support & ease of access. Spray painted it Gold & used PVC pipe & the top of playdough cans containers as the ears. Printed out the eyes, cut out the mouth & glued sheer black fabric so she could see through it. Made the Screen printed iron T-shirts from a t-shirt that we already had.
For the boys (Red Foo & Sky Blu) Made the screen printed T-shirts from plain T-shirts we already had. Blue Skinny jeans, Afro & accessories that we dug out from our "halloween trunk". The Pink skinny jeans & animal print hat is from GoodWill. Shades boys already had. I added some "bling" to the rims. The facial hair is purchased Halloween make up.