Pandemic Doctor Costume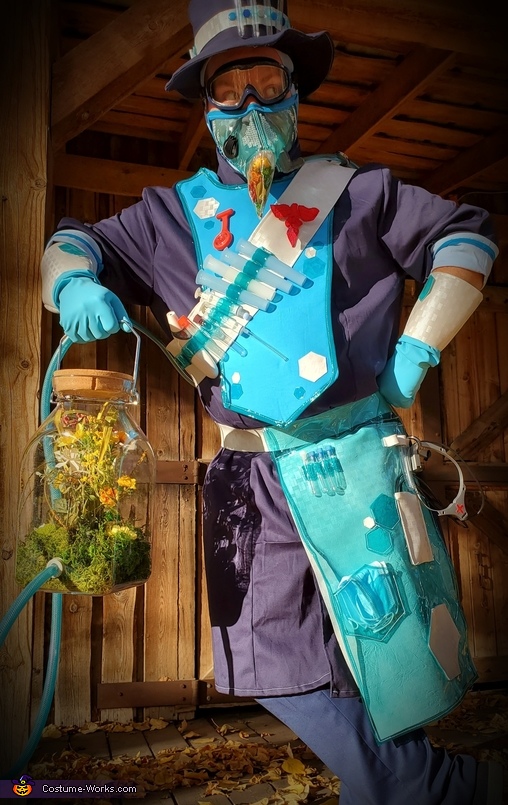 Pandemic Doctor Costume
More views:
(click to enlarge)
A word from Justin, the 'Pandemic Doctor' costume creator:
My inspiration came from the sucky pandemic of 2020 and how we have to mask up/ social distance like the Plague Doctors during the Black Plague.
I wanted to make a more futuristic idea of the concept, marrying the old and the new front liners of the history, to birth a sci-fi PANDEMIC Doctor (hopeful this costume idea is a just a fun fantasy and not a new reality!).

This costume is turning a bad situation that is on everyone's mind to a silver lining of art. I'm also wanted to give a nod to all the front liners that are risking their lives day in and day out. You guys are the heroes of 2020!

This is my first homemade costume that I made for myself. I dabbled in the sewing arts, and I always love drawing concept art for ideas that haven't been done. This original idea I sewed, built and research to fully give this costume a life and story.

MATERIALS:
- Cotton Twill
- Quilter's Cottons
- RIT DYE MORE Synthetic Dye
- Pearly white, Basket weave Vinyl
- Clear Vinyl 12 gauge
- Mock Mesh Fabric
- Lightweight Knit
- CLEAR PVC tubing
- Mason Jar Drink Dispenser
- Plumbing fixings/parts
- buckles, d-rings, snaps,Velcro, elastic


Decorative props:
-Fake Flowers, and real moss
-Test tubes ranging is different sizes
-Toy Stethoscope
-Thermometer gun
-Dishwasher gloves
-planting Styrofoam for silk flower
-fake syringee
-Nurses watch
-small glass bottles, hand sanitizer, Halloween decoration


HOW IT WAS DONE

Jacket:
I sewed the main Jacket using Yaya Han's McCall's 7939. The accents colors, and bib I used quilting cottons. I added Hexagon Appliques from the white and dyed clear vinyl.

Plague Doctor Hat:
I used the same cotton twill and I used
dieselpunk's pattern as a guide to making the hat. I created the hat belt, with remnants of my dyed clear vinyl and white vinyl.

Main Apron:
Used the pearly white vinyl in combo with the dyed clear vinyl I did as the apron overlay.

NOTE ***This vinyl DID NOT come this color!
I had to dye the vinyl using the amazing RIT DYE MORE for synthetic in Tropical Teal product to get that colour. I also dyed all the clear PVC tubing, and the test tubes with it to match the uniform color palette. GREAT PRODUCT and simple.

Plague mask:
Also got pattern from dieselpunk for the half faced plague doctor mask. Used most of the Dyed clear vinyl for the main, added some special decorated stitches for some pop, and made a chamber beak tip with the remain Clear vinyl I didn't dye. I stuffed it with fake flower, paying homage to the original Plague Doctor mask.
To fit it closer to my face better, I used mock mesh and lightweight knit for the underside of the mask. I made a cotton tape with the quilter's cotton to finish the edge so it was more comfortable to wear. I finished with adding elastics to keep it on my face.
The PVC tubing was connected with plumbing parts and I cut a hole so I can connect the tubing to the Air Tank.

Utility Crossbody Belt:
I created the belt from scratch as well (cause why not, I have lots of left over vinyls), with the white vinyl. I used the DYED clear vinyl to make pockets for the apron and the test tube band holders on the belt.

Air Filtration/Oxygen Tank:
I was looking for something that could work as a air tank like a lot of sci fi/futuristic art I've seen. I found this Mason Jar Party Drink Dispenser made of of plastic. Which was great cause it was lightweight,and had a metal handle so I can hang it to my cross body belt like a backpack OR hold it in my hand like a lantern (coincidentally, Plague doctors had lanterns as well).
I got in touch with my feminine side, did a flower arrangement with fake flowers, and stuck on a Styrofoam base. Covered the baste of my tank with moss and bits of fake flowers. I took the original nozzle off, and stuck the PVC tubing in, locking it in place with plumbing parts.

Gloves:
I took dollar store dish washing gloves, revamped them with the white vinyl to fit with the uniform.

The cost of all this (including buying the patterns, and both real and fake props) was roughly 180.

I hope you guys really enjoy the costume that I worked really hard to make. It was stressful to get clear vision for it but I had a lot of fun making it.
https://www.instagram.com/jdyler_00/