Over the Top Candy Witch Costume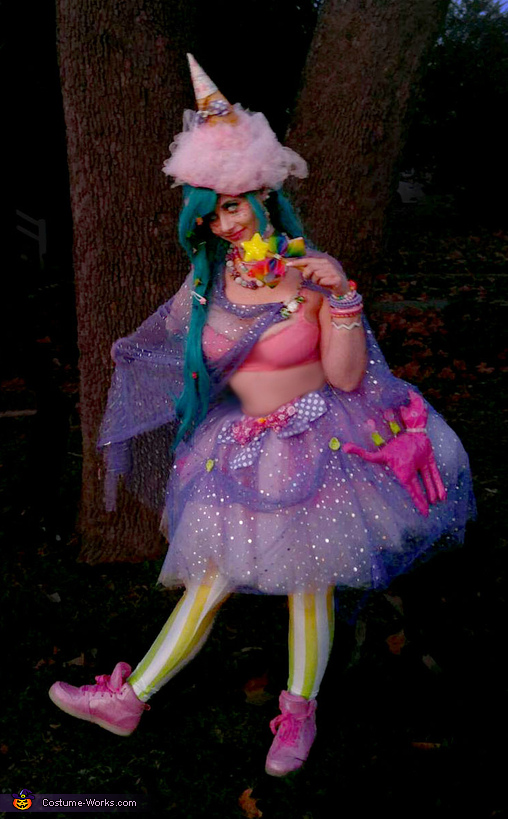 Posing
More views:
(click to enlarge)
A word from Katrina, the 'Over the Top Candy Witch' costume creator:
This costume was a ton of fun to design, create, and wear!! I got to explore my fashion sense, bond with my mother (the Craft Queen), and sew my very first skirt! And to make things extra fun, I counted down the days of October with one small gift to myself each day, just like a Halloween advent calendar. Most of those gifts became something in the costume, so it was constantly growing and evolving all the way until the end!

Starting from the beginning, I had originally planned to rewear my Merida ("Brave") costume from last year to make use of my natural red hair-- but then I found The Wig™ (just a normal wig). It was in storage with my friend's halloween decorations, a hot mess tangled up in the string lights, but I immediately fell in love with the length and amazing, vibrant teal color of the wig. My friend let me borrow it, and I began planning a costume around it. So I turned to the internet for inspiration and Katy Perry was thrown into the mix! Her outfit and hairdo from her "California Girls" music video hit a note with me, with all of the playful colors and candy / cakes! I didn't want to completely copy her, instead drawing inspiration from the aspects of the video that I most liked. I've always had a fascination with over the top stuff like that, especially Japanese harjuku fashion (Google it!!!) and I got into the idea of making some sort of costume that embodied the pastel goth / decora fashion styles, revolving around candy! While researching candy characters like Vanellope von Schweetz ("Wreck It Ralph") and Queen Frostine / Princess Lolly (Candyland Boardgame), I remembered the Grimm Fairytales story of Hansel and Gretel and was struck with the idea of being a candy WITCH! That's where the ball really got rolling.

More research later, I finally decided on a look that felt a bit like Glinda the Good Witch ("Wizard of Oz") if she went evil and started eating Munchkins. A sweet exterior with creepy details, like long scary nails and fangs. With that cute / creepy combo in mind, I made many trips to Walmart and thrift stores, and even went antiquing! Slowly gathering a necklace here, leggings there, and the perfect shoes in the children's section, I assembled a large pile of items by mid-October. I finally had to start putting the costume together, and that's where the hard work began.

Out of the whole experience, sewing the tutu was my biggest challenge. Thankfully my mother was over the moon with delight that I was finally interested in a sewing project, and she taught me how to use her sewing machine and hand stitch when necessary. A base layer of thick white tulle, covered by a cheap $4 tutu from the Halloween Costume's aisle, covered by 3 layers of pink tulle, covered at last by a layer of sparkly purple tulle and tied up with a 3-ribbon bow! Very intensive... All in all, the tutu took 3 days of intermittent work (mostly due to underestimating fabric amounts for my grandios layering idea and having to go on fabric runs all 3 days). Tack on one more day just to create the base of the cotton candy witch hat (pink tulle covering a hot pink bath loofa!), and two more crafting the details like the sprinkle necklace, sprinkle bangle, and matching sparkly cape, and I had almost a full week of work and $140 invested into this costume!! If I could do it over again, I'd have made sure to follow a Pinterest tutorial before jumping into my DIY tutu. Also, I stabbed my fingers with needles and burnt them with hot glue SOOO many times, so I'd defintely invest in thimbles.

From top to bottom, my costume consisted of a waffle cone to top my handmade cotton candy hat, cabochons from Etsy that I glued to hairclips to bedazzle The Wig, multiple necklaces and bracelets that I modified to look like candies, a pink bustier top, a cape I made, a glow-in-the-dark magic wand that I modified with a bow and sparkles, Purrsilla (my bubblegum pink cat purse, preexisting), one set of cute press on nails and one set of long witch nails, chocolate brown body paint, a tutu that I made, candy striped leggings, and sparkly pink shoes. The best part came in the mail ON HALLOWEEN, which were my white-out contacts that made my eyes creepy like the blind witch in Hansel and Gretel! I was so excited that they'd made it in time! When worn all together, my costume looked better than I had hoped!! Everyone that saw it said they loved it, even though unfortunately the concepts of Candy and Witch didn't often hit at the same time-- I got many Candy Queen comments and a few Fairy Godmothers, though the white eyes made most people guess that there was more to it than that. So if I make a reprise of my costume for next year, I'll have to think up a way to make it even more witchy! I did end up winning second place for Most Creative Costume in a local contest, and I'm hoping that maybe I can again (or better!!) here!