Nerf Bullet Costume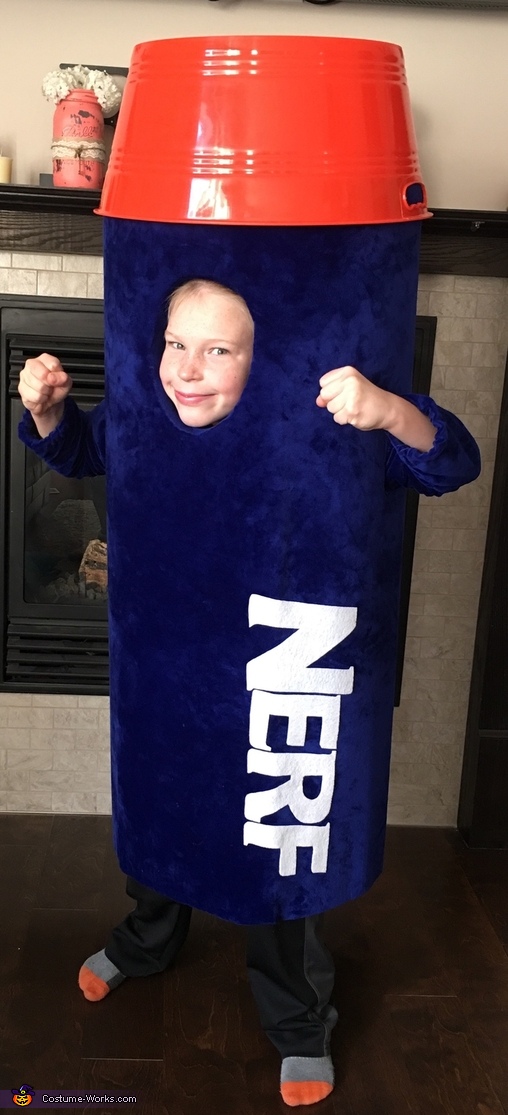 Nerf bullet
A word from Robin, the 'Nerf Bullet' costume creator:
My son, Chason asked if I could make him a Nerf bullet costume this Halloween! "Well, I guess I can try!" and it worked out great and he had SO many compliments!!
I bought a big piece of 2 inch foam and cut it to his height so he could still walk and made it abit bigger than the diameter of his body and secured it together with spray adhesive. I also just hand stocked it to make sure it would stay together. We cut face and arm holes out and sprayed it again with spray adhesive to secure the blue fabric we bought at the fabric store on the exterior and cut out the face and arm holes and folded them in securing them inside with spray adhesive again. We cut out the NERF logo onto white felt and put that on the bottom and used spray adhesive again. We used some of the extra blue material and just sewed some arms on an old hoddie so his arms sticking out would be blue also. We bought a big orange bowl at Walmart and secured it on top using tie straps and that's it:) Chason loved this costume and so did everyone else!!