Mugatu Costume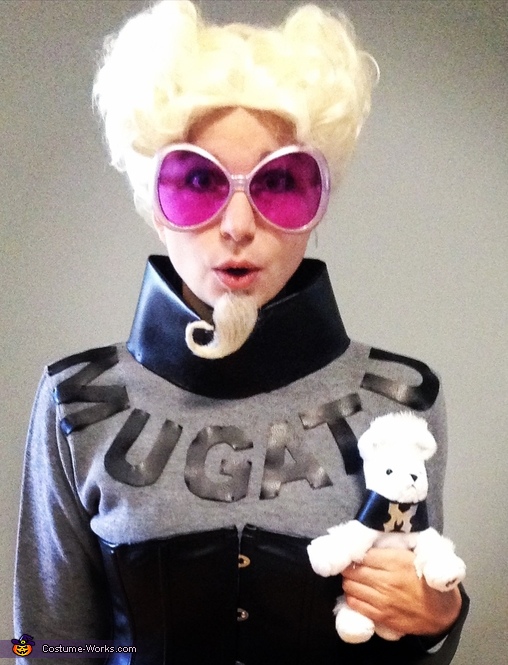 MUGATU!!! I feel like I'm taking crazy pills!
More views:
(click to enlarge)
A word from Meghan, the 'Mugatu' costume creator:
One of my all time favorite comedies is Zoolander. I decided to get a small group together to be the main characters of Zoolander, Hansel and, of course, Mugatu. I took Mugatu because I knew it would be the most work. I bought a grey sweater from goodwill and then went to Joanns for some fake leather fabric. I sewed on the collar, letters and cuffs in the fake leather. I then went to a wig store and bought a blond curly wig. When I got home I teased the curls to make them even bigger and then pinned the middle down. If you use a lot of hairspray the hair will stay exactly where you want it. I was able to take out the pins and it stayed perfectly. The goatee was actually a handlebar mustache that I cut down the middle and then turned upside down! The rest of the costume was found easily on Amazon: corset, sunglasses, little dog. I really enjoyed this costume and got SOOO many compliments! I know I did Will Ferrell proud!