Mr & Mrs Lego Couple's Costume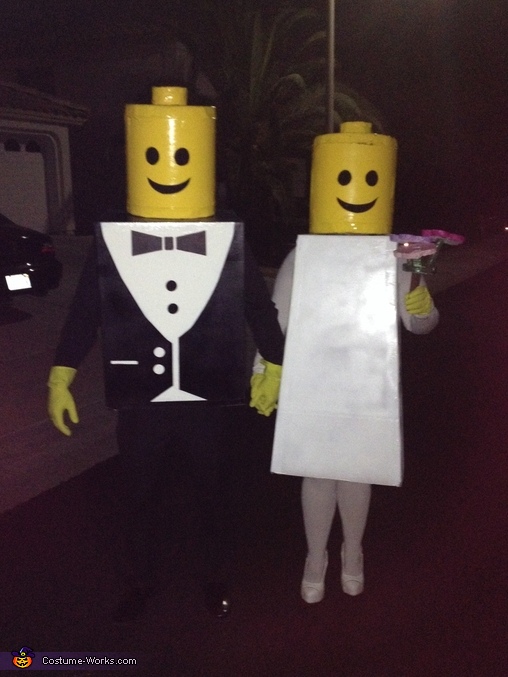 Mr & Mrs Lego
More views:
(click to enlarge)
A word from Michelle, the 'Mr & Mrs Lego' costume creator:
My husband and I were going to a friends costume party and wanted to be something original so I put my mind to it and spent some time on it and we became Mr & Mrs Lego!
I love making homemade costumes because I think it really gets into the spirit of Halloween. I was looking online for some motivation and found a person who had done a Lego head and I wanted to take it further to make it a couples costume so I googled Lego bride and groom. There were a few variations for the bride but the groom was always the same. I decided to go simple for to bride (my costume) and put my energy into the heads mostly and then the groom (my husbands costume).
The site I saw for the Lego head had instructions on how to make it, but I'm bad at following directions so I decided to wing it! I went to Home Depot to figure out what I should use. For the heads I ended up using concrete form tubes and styrofoam. I cut the tubes with a hand saw and sanded them down the best I could, then I cut 2 inch thick styrofoam to the same diameter as the heads 2 pieces for each head (too and bottom). Then I taped them together. I wrapped tape around every piece of styrofoam so it wouldn't dissolve when I spray painted it. I used publisher on my computer to do the stencil for faces. Then I taped it on and used an exacto knife to them out. I also used styrofoam to make the top pieces and (wrapped then in tape as well) then glued them on. I bought the yellowist spray paint I could ind with out being neon and they took a couple coats. Lastly I took an old black sheet shirt and cut it up and taped it on the inside so we could see out but you couldn't see in. For the bodies I just used cardboard boxes for moving. For the groom I kept it simple and simply but the box together then cut out a spot for his arms and head. I spray painted it all black. For the bride I wanted it to look more like a dress and be more trapezoidal. So I took the same box but cut it up then tape it back together and spray painted it all white. I then hand painted on the design for the grooms tux going off I pic I found online. I felt the bride was too plain so I made flowers out of left over styrofoam.