Miracle Grow & Flowers Costume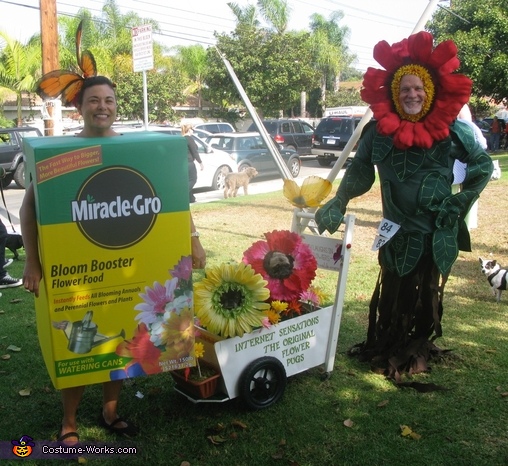 A group shot. Using Miracle Grow really does make bigger blooms!
More views:
(click to enlarge)
A word from Lisa, the 'Miracle-Gro & Flowers' costume creator:
Every year, I make costumes for my Pugs for our annual Howl'oween parade. Soon I started to make costumes for my husband & I, to go with my Pugs' costumes.

I made my Pugs, Mochi & Olive, flower costumes & I thought it would be funny if my husband dressed as a flower too!. Flowers need Miracle Grow to bloom bigger, so I made myself a box of Miracle Grow!

I used a dog E collar (plastic cone of shame used for medical issues) as the base for the petals. I cut it down shorter, so it didn't go past their heads. I used green felt to make a cover for the E collar & make leaves to cover the back. A costume has to look great from all angles! I got huge silk flowers from a floral supply & carefully deconstructed them. I took the petals & used fabric glue to attached them to the felt covered E collar. I made a million green felt leaves & sewed some of them to green harnesses to cover their bodies in leaves. The dogs didn't mind the flowers because they were around their neck, not on their head.

I did the same petal technique on my husband's head piece, but not with an E collar. I used felt to make the shape & stuffed the back with poly fill (like a pillow). That created the desired shape & kept the shape. I got a long sleeve green T & sewed the rest of the leaves onto the T, with many on the bottom creating a kind of skirt. He wore brown leggings & I made roots out of brown felt & sewed them to elastic he wore around his waists, that trailed down onto the ground. I made felt shoe covers that went over his shoes & sewed roots onto those also.

For the Miracle Grow costume, I used a wardrobe moving box that had the bar in it. I took the bar out, then cut off that part of the box. I scanned parts of an actual Miracle Grow box, enlarged it & printed it on self adhesive paper, so some of the things were stickers & I put them on the box. Some I printed & glued to the box & some I used paint to touch up bits.

I then embellished everything with big bugs, etc., the wagon, & both of us humans.