Minecraft Zombie on Fire Costume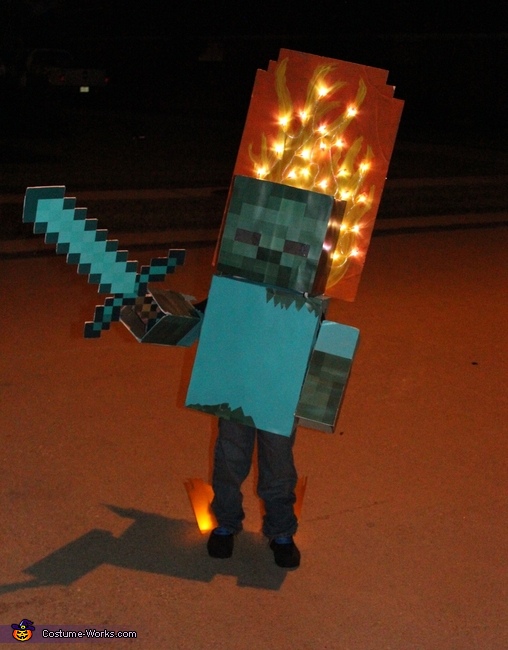 Minecraft Zombie on Fire Costume
More views:
(click to enlarge)
A word from Leyna, the 'Minecraft Zombie on Fire' costume creator:
Anyone who knows a kid, particularly a boy, aged 6-12 will probably know waaaay more than they care to about a little video game called Minecraft. When I asked my 6 year old son to come up with a costume idea that would fit along with his baby brother's fire-themed firefighter costume, he immediately exclaimed "Minecraft Zombie ON FIRE!"

This was the most daunting costume prospect for Mom initially, but the 6 year old helped by writing notes to all the neighbors 6 weeks in advance asking for cardboard box donations, and by playing lots of Minecraft to get screenshots for Mom's inspiration. Aside from the multi-pack of battery-operated light strings purchased for all 3 of my kiddos' "fire-themed" costumes, everything else we had on hand, found, or crafted with blood, sweat, and tears. Zombies like that kind of stuff, I hear.

Battery-operated tealights hot glued to orange vellum and zip-tied to his boots created the illusion of his feet on fire. Foam board and this pattern (https://kerryannmorgan.com/2013/10/how-to-make-minecraft-diamond-sword-and-diamond-pickaxe.html) made the Diamond sword a piece of cake to create. Some posterboard and a modified printable from this website (https://www.fps-x-games.com/2013/08/how-to-create-minecraft-zombie-head.html) helped complete the arms and zombie head (with some window screen glued behind the eye cut-outs for sight and air circulation).

Foam board painted orange by the boy himself with flames added by Mom and accessorized with two strings of battery-pack lights made his Minecraft Zombie on Fire costume a true standout among all the trick-or-treaters.

All of the kids were amazed and immediately knew he was a Minecraft character--even toddlers who (like my own) obviously have big brothers/sisters who play the game. Most of the adults (including his grandparents) thought he looked really cool but had no idea what he was supposed to beŚLOL.