Mayhem in Gotham City Costume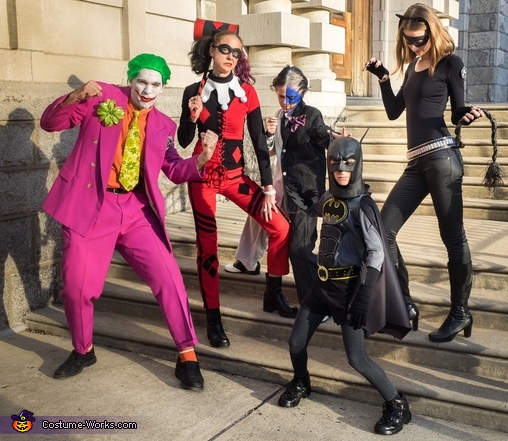 Joker, Harley Quinn, Two Face, Batman and Catwoman!
More views:
(click to enlarge)
A word from Amy, the 'Mayhem in Gotham City' costume creator:
This costume is carrying on our family tradition of dressing up together! It's all about getting everyone to be excited about the theme (which admittedly has gotten more tricky as the kids get older). Once I found the purple suit at Goodwill for my husband, I knew we could make this ensemble happen! All items in this collections are either thrifted, re-purposed,sewn,bought on clearance racks or re-used from prior Halloweens EXCEPT for the Joker's wig and batman's cowel mask. Of particular note that was fun to figure out was Harley Quinn's mallet made from a croquet mallet encased in a decorated oatmeal container. Harley's shirt was made by sewing two lace-up crop tops together that I found for $3 a piece. Catwoman's tail was made from dollar store plastic twine that was shredded and then twisted into a more cat-like form. Two Face's suit was made from altered woman's career pants and a coincidentally matching child's blazer, both found at thrift stores that was spray painted by my husband. Batman's belt buckle is made from a Nutella lid, silver paint and felt. Our neighborhood in West Philadelphia is the BEST at Halloween and it's great to be a part of it from year to year. Our characters include Joker, Harley Quinn, and our children as Two Face, Catwoman and of course, Batman!