Maverick Top Gun Pilot Costume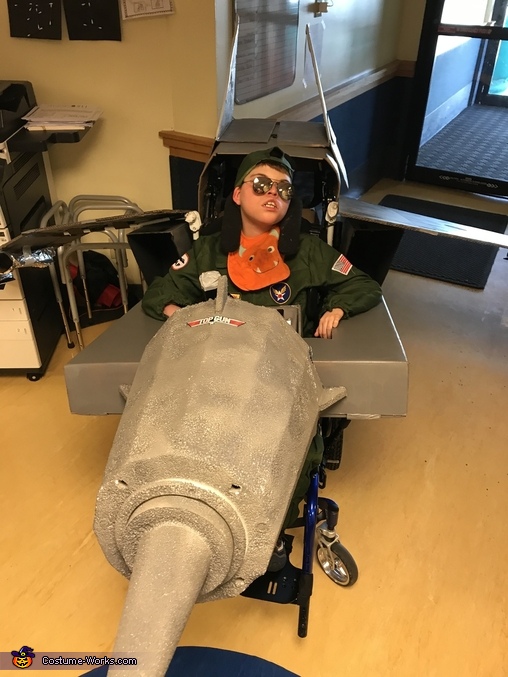 Front view
More views:
(click to enlarge)
A word from Bob, the 'Maverick Top Gun Pilot' costume creator:
My son Sean is wearing the Top Gun Pilot suit. He has special needs and the F14 jet surrounds his wheelchair. The idea came from building a custom costume that can include his wheelchair. The materials include:
- Card board
- 4 dixsy cone cups
- 4 cans of grey spray paint
- 3 Top Gun stickers
- 2 plastic outdoor plant vases
- 2 small bungy cords
- 2 medium hard rubber bungy cords
- 2 metal hinges from gate for bed (allows large wings to fold vertically to go between doors and rooms)
- 2 black plastic binder clips ( goes on either side of the roses bush cover for the small bungy cords to connect and go over a large push pin in card board)
- 1 rose bush styrofoam outdoor cover
- 1 styrofoam cone and small flat circle
- 1 large push pin
- 1 Bluetooth wireless speaker connected to phone to play Top Gun music
- 1 pair of air force bomber sun glasses
- Aluminim foil to wrap card board paper towel holders for missles
- Velcro - used to anchor card board frame to wheel chair
- Small amount of black weed barrier cover.
- duck tape used to tape hinges to wings
- spray adhesive used to hold card board pieces
The jet it self broke down into six pieces for travel.
Front end - rose bush cover with bungy cords went over pin on main cardboard frame.
2 large Wings -held to wheelchair with hard rubber bungee cords and supported horizontally with card board. Each wing had two missles taped to the wing
Back end end to wheel chair with Velcro and supported by wheelchair bard
Core cockpit box shape held to frame with Velcro. Internal cockpit piece sat on pilotís lap with a thruster control and movement control.