Lumiere and Babette Couple's Costume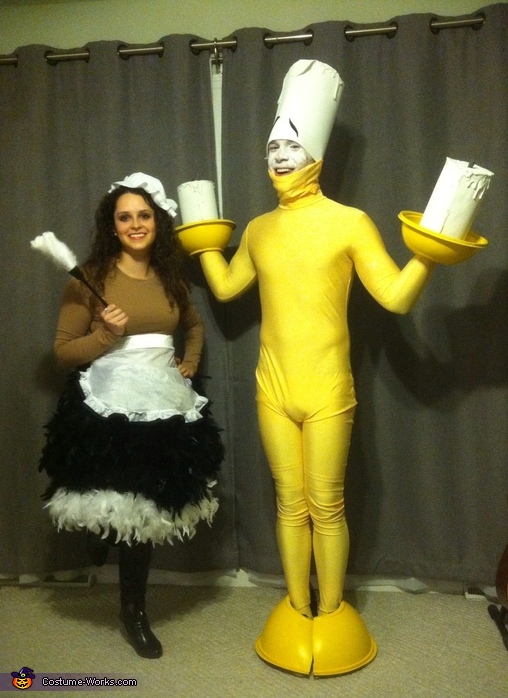 Lumiere and Babette costumes
More views:
(click to enlarge)
A word from Ryan, the 'Lumiere and Babette' costume creator:
My girlfriend and I go all out every time we dress up for Halloween. Both Lumiere and Babette costumes were home-made and took a total of about 3 hours.
Lumiere:
The candle base was constructed from an XL party bowl from your local party supply store (~$3.00). The circular bottom was cut out and the entire bowl was divided down the center. It was then spray painted yellow. I then attached each half of the base to a pair of old shoes using Popsicle sticks and hot glue. The bases for the hands were done similarly but did not need cut in half. To construct the large candles, I formed two cylinders out of rectangular sheets of white foam. I then used super glue to hide the seams and give the candle that melting effect. I then spray painted them white. To finish it off I just rolled some grey pieces of felt for wicks and stuck them into the tops of each candle. I bought a yellow bodysuit and used the detached hood to attach to the candle headpiece. And Ta Da! (~$50)
Babette:
Babette was slightly easier. My girlfriend simply hand sewed 8 or 9 black boas around an old skirt. She made her own hat by sewing a piece of elastic to a piece of white fabric and finishing it off with some fancy trim. The rest is self explanatory.