Little Old Lady Costume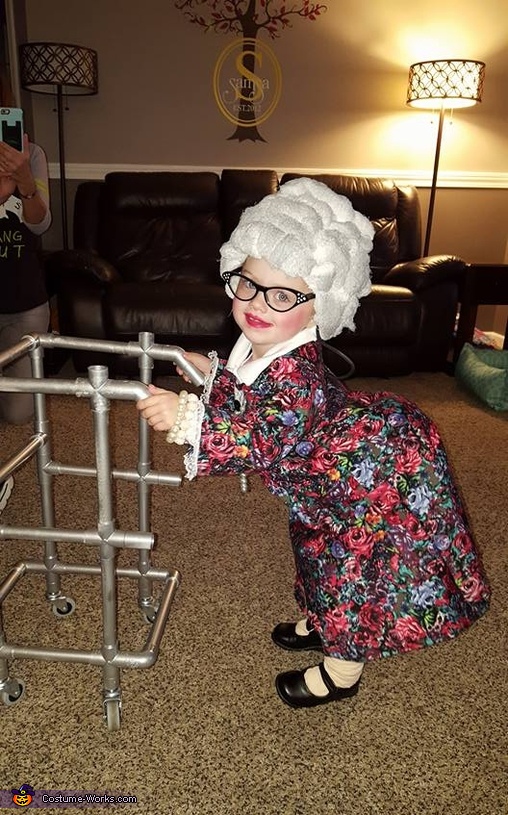 Little Old Lady Costume
More views:
(click to enlarge)
A word from Stephanie, the 'Little Old Lady' costume creator:
This is my daughter Liliana She will be 3 in December. Every year I look for a more original idea for a halloween costume and try to re-create it myself. I ran across a baby with an old lady costume and thought to myself..."I can make my own version!" and I did just THAT!!

I went to Joann Fabrics and picked out an "Old Lady" type fabric for the dress... Then, all I really did was go on youtube and look for some instruction on how to make a dress.. I was able to use Liliana's clothes as a guide (or pattern) to sew the dress.. i fancied it up by adding lace and buttons.

I originally saw a wig made with felt balls and was going to mimic that idea but came up with a better idea. I used a winter hat (beanie) and sewed on large gauze pads. I fluffed them up a bit and sewed them all around the hat (this way it was nice and warm for trick or treating and also looked like frizzy helmet head hair) I then sprayed it lightly with some silver spray paint.

I purchased poly-pure stuffing (like you would use to make pillows or stuffed animals) and I put an oversized handful in a sandwich ziplock bag (i made 2) and put them inside her tights over her diaper to make the big BOOTY

I bought oversized ballet tights so they would sag at the ankle like a real old lady.
I added a collard shirt underneath for warmth and a sophisticated collared look
The pearls on her neck and wrist were mine
I found the glasses at spirit halloween and added a strap on them
The shoes were from Payless..(they look just like old lady mary janes)

My husband and I went to Lowes and purchased some 1/2 in. PVC pipe and corner connectors and wheels.
my husband kind of created his own design and put together the cutest walker..we then spray painted it silver.
Last minute I grabbed one of my blazers to keep her a little warmer outside and it turns out, it just put the cherry on top!! Made the costume even more adorable!