Little Firefighter and His Truck Costume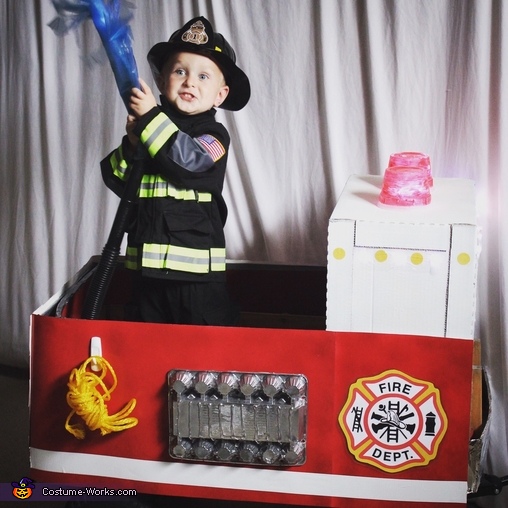 Little Firefighter and His Truck Costume
More views:
(click to enlarge)
A word from Leyna, the 'Little Firefighter and His Truck' costume creator:
Those with three or more kids or anyone who IS the younger sibling knows it's sometimes rough being the littlest either getting drug along to school and sporting events for older siblings or getting left behind while the big kids have big kid fun. This year, since it was my 2 year-old's first time actually having an opinion about his costume and understanding the concept of trick-or-treating, I really took his request to be a firefighter to heart (and his big sis and big bro were great sports about going along with the fire theme).

Almost immediately after deciding on our theme in August, I happened to catch a great deal on his firefighter costume & accessories at Costco. DONE and DONE. That never happens to me since I'm a procrastinator and very cheap and totally abide by that popular internet joke "Why buy it for $7 when you can make it yourself for $92 of craft supplies?" I decided right then and there at Costco with my little firefighter costume and a 3 month supply of toilet paper in my basket that I would put the effort (and not much $) into his coolest accessory--his firetruck.

Big brother collected enough spare boxes from the neighbors for his Minecraft costume that I had plenty to use on my 2 year-old's wagon-turned-firetruck. Those cardboard boxes, posterboard, spray paint, egg cartons painted silver, emblems printed on the home printer, an inexpensive string of battery operated lights, and other items on hand happened to make for a cool fire truck and a really happy little guy. A handmedown toy that I had relegated to the garage (soon-to-be donated) pile because of its very loud honking and police car/firetruck siren noises found last-minute redemption as the perfect accessory to sit with our firefighter as he rode along in his firetruck. Mom and Dad loved that we had a handy wagon with us for holding the supplies required to quench our thirst and toting the gradually discarded costume accessories from big siblings throughout the night. But the 2 year old's favorite element was probably the fire hose—a leftover hose from an old broken vacuum and strips of a used Hefty Big Bag hot glued in to the end as the water. He had a great time "spraying the fire out" on his big siblings.