Little Bo Peep, her Sheep, and the Big Bad Wolf Costume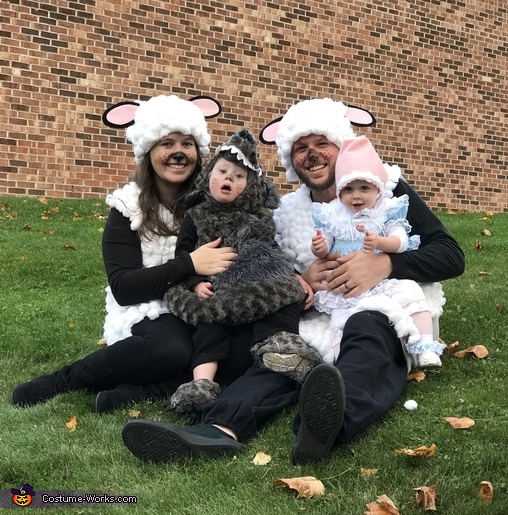 Little Bo Peep, her Sheep, and the Big Bad Wolf Costume
More views:
(click to enlarge)
A word from Autumn, the 'Little Bo Peep, her Sheep, and the Big Bad Wolf' costume creator:
Me and my husband are dressed as sheep, our daughter, Adaline, is Little Bo Peep and our son, Liam, is the Big Bad Wolf. The idea for this came only a few days before we were to go to a Trunk-or-Treat. I was going through my daughters clothes to see what still fit and what didn't when I came across this dress that my mother in law had bought for her at Dollywood about 6 months prior and the idea just popped into my head! So I thought it would be pretty neat. It wasn't till the day before that I decided to make my son the BBW!
The sheep costumes were pretty simple, just a bit time consuming. All you need is a long sleeve black shirt and bottom of your choosing, a white/light grey shirt, dress, shorts, ski hat, felt, fabric adhesive, hot glue gun, and of course A LOT of cotton balls!!! Our sons costume was given to us when we told someone what we were planning on doing. LUCKY! And of course the dress our daughter is wearing is actually not a costumers all but I did make the little bonnet she's wearing with felt, lace, and a hot glue gun.