Lieutenant Dan, Forest Gump and his Box of Chocolates Costume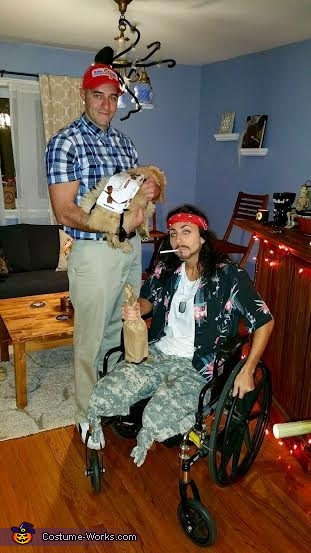 Lieutenant Dan, Forest Gump and his Box of Chocolates
More views:
(click to enlarge)
A word from Christina, the 'Lieutenant Dan and Forest Gump' costume creator:
I (Christina) am dressed as Lieutenant Dan. I found a button up Hawaiian shirt at the thrift store, then found my red bandana, dog tags, and had an old white t-shirt. I borrowed a pair of army pants from a cousin, who didn't mind me cutting them up. I wore black leggings with black socks, and wore the army pants over top. I cut the back of the knees down on the army pants, then tied the fronts in a knot. I borrowed a wheelchair, then had a black belt hooked underneath, for me to tuck my legs back up and rest on- creating the illusion of no legs. My hair is already long, dark, and curly/wavy like the character, then my husband burnt the end of a cork and drew facial hair on me.
My husband was dressed as Forest Gump. We ordered his "Bubba Gump" had online, then he had the rest of his costume- plaid shirt buttoned all the way up, khaki pants, and tennis shoes.
Our new puppy Bentley was dressed as a Box of Chocolates. I bought a box of Stouffers Chocolates. I took the lid and made a hole in each corner of the lid. I took black ribbon, and tied a bow around each box corner to each of Bentleys legs. He did a great job keeping his costume on for the night!

We have always wanted to do a Forest Gump and Jenny costume, but we thought this would be funnier. It was a big hit!