Leatherface Costume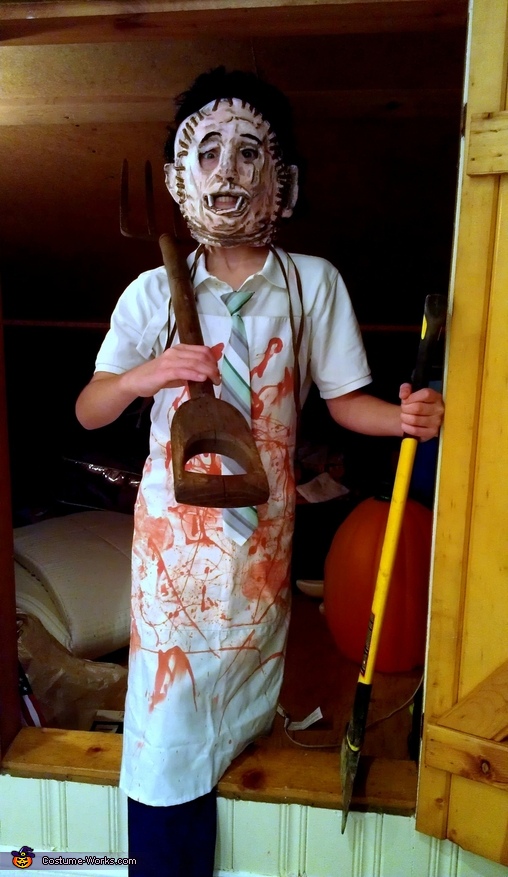 The Full Costume
More views:
(click to enlarge)
A word from Tiffaney, the 'Leatherface' costume creator:
My son is a horror movie buff, and this year he wanted to be Leatherface from the film "The Texas Chainsaw Massacre." We looked around for a good mask for him but couldn't find anything that we wanted to spend money on. Everything we found was either too cheap looking, and not up to our standards, or really expensive and beyond our price range. Together we made this costume out of paper mache, some small items from Walmart, and clothes that he already had.

We started by making a mold of his head with aluminum foil, and duct tape; which we then paper mache'd so we had a hard surface to work with. We then used card board, duct tape, masking tape, and computer paper to make the face and head on top of the mold. Once the mold was exactly the way that we wanted it to look, we paper mache'd the whole thing using only newspaper, and a paste of flour and water. We repeated this step about 4 times in alternating patterns to make a nice hard usable mask. When everything was completely dry we cut the mold in half in order to remove the insides, and then paper mache'd the mask back together with a slit in the back so it would fit over my son's head. I sanded it all very lightly with a block of drywall sandpaper, and then painted it with acrylic paints. The wig we put on last. We got a "Mullet" wig for $6 from Walmart and we cut it down, and hot glued it onto the mask.

We picked up an apron and some fake blood from Walmart as well. We stood outside and splattered the entire contents of the fake blood bottle onto the apron, and even put some bloody hand prints on there as well. The dress clothes were already in my son's closet, and he was happy to wear them for this occasion.

My son was very happy to be recognized as "Leatherface" everywhere that we went on Halloween night. As he walked up to people's door everyone commented on how creepy his costume was, which made him even happier. The best reaction of the night though was his own when he looked at himself in the mirror for the first time. It made me so happy to see him so proud of a project that we had worked on together.