Lauren the Djinn Costume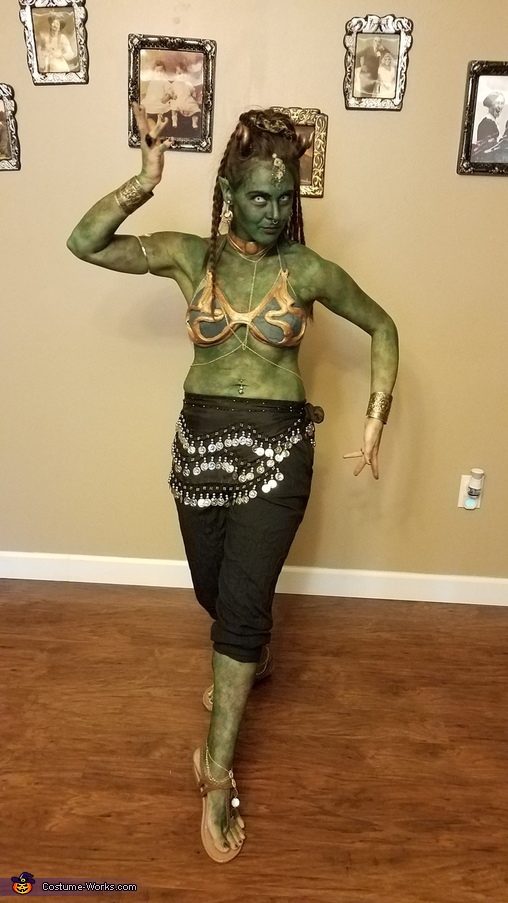 The complete costume.. BUT I hadn't painted my hands yet!
More views:
(click to enlarge)
A word from Lauren, the 'Lauren the Djinn' costume creator:
This is an original costume I came up with this year after learning about djinn, or demonic genies from Muslim culture!

I had to carefully plan out the steps of putting this costume on because my body was completely painted, and I did not want to mess that up!

So I started with my hair to get it out of the way, which includes a 22 inch, braided extension. Within my hair is a headband I glued horns onto- I had to carefully place the headband before affixing my hair on top of my head to hide the headband itself.

The next step was to affix my prosthetic pointy ears which I had never done before but found to be quite easy for me! White-out contacts went in, which were comfortable as I regularly wear contacts anyway. Following that, I painted my face with green water-activated body paint, stippled black in top, then finished off withdramatic contour and eyebrows. As a djinn, I was not too concerned about looking glamorous, as I'm busy being up to no good!

Following the makeup, I put my entire costume on and then carefully painted the rest of my body using the water-activated paint which, again, I had never used before but found to be quite easy and very comfortable! Didn't rub, melt, or flake off!

Jewelry, accessories, and shoes when on last to complete the look! This included a dangly headpiece, antique earrings, a faux nose ring, a large brass choker, brass gauntlets, large rings, a body chain, a belly ring with Saturn dangling from it, layers of Dollar Tree "creepy cloth" and a gypsies coin sash from Walmart around my waist, and anklets which connected to my toes.

The pants to this costume I purchased years ago from a Dollar General, and the top is actually a "slave Leia" top. I pride myself in coming up with costumes on a budget, using things I already have or finding cheap accessories to buy and add to the look. The body paint was my biggest concern, but it was easy to use and was only $6! I also had purchased the prosthetic ears on clearance at a Spirit store years ago and never used them because I thought they'd be more difficult to use than they actually were.

Without including the materials I already owned, I spent a total of $27 this year on this costume!