Jafar Costume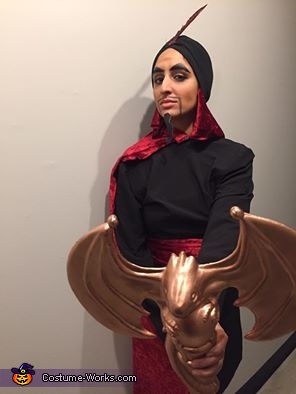 GENIE. I WANT YOU TO GRANT ME MY FIRST WISH. I WISH TO BE...... SULTAN!
A word from Nicole, the 'Jafar' costume creator:
my name is Nikkie! I got this idea from Disney's Aladdin. Every year, when Halloween comes around, everyone always tells me I should be Jasmine, the Disney Princess. I get annoyed of it because I know it's because of my Middle Eastern decent. I'm not one to go for the revealing Halloween look, so I thought it would be fun to do a little spin on a villain and say HA to those that tell me to be just another Disney princess stereotype. I got my entire costume from my local Goodwill, including the staff, which I just spray painted. I think a lot of the creativity for my costume came from my face make up- the eyebrows were my favorite part! People knew who I was instantly, and while at times I got shy walking into bars, I had to own the part, and it was a crowd pleaser. It was for sure hilarious to walk into a bar with my boyfriend and have people wonder who the other guy was he was with.