Jadis The White Witch and Aslan Costume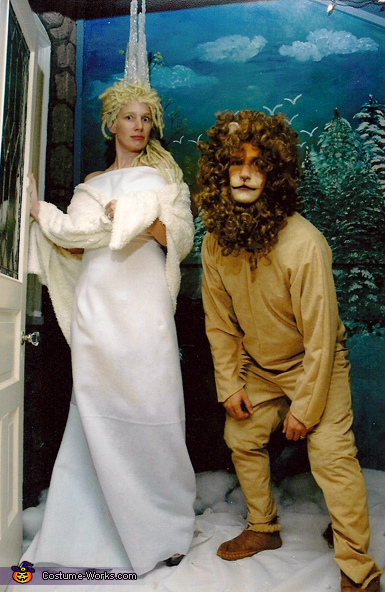 Jadis The White Witch and Aslan
A word from Jenn, the 'Jadis The White Witch and Aslan' costume creator:
When you have a Halloween Party with a Time and Dimensional Travel, who else but Jadis would reign over it!? Well not is Aslan keeps her in check anyway!Here is myself and my husband, Chuck, as Jadis and Aslan from The Lion The Witch and the Wardrobe.
The lion costume is for sure much more straight forward, I made the body suit from a pattern and we bought a lion nose prosthetic and lion wig from a theatrical shop. The make up is a great aqua cake, in white, yellow gold and brown. the shoes are just my husbands sterling slippers.
The dress was made with white felt (I eyeballed it with no pattern- living on the edge! That's me!) most important with about 10 extra inches to the skirt, because she is an amazon, and I had to account for the platform shoes I wore. I dip dyed the bottom half of the skirt to get the gradient blue look of ice and snow on her dress.
The make of break of the costume was finding a blonde wig with dreads- aw, the magic of the internet! And thank goodness for the far too early Christmas inventory in stores... I bought, acrylic icicle ornaments and hot glued them to a bit of chicken wire like mesh to be the crown of ice, and sewed it to the wig. Because of the weight of it I had to sew in an elastic strap for the back of my head to counter balance the crown.
Jadis needs her scepter, so I took an old cafe curtain rob (the spring load kind, took of one of the rubber ends and hot glued another icicle to it and then wrapped the curtain rod in a white iridescent ribbon.
I, because I m a little nuts, had my eyebrows bleached because she doesn't have any (though there wasn't at the time- tutorials on gluing down your eyebrows so it looks like you don't have any) and I bleached my hairline- she is supposed to be very snowy pale in every way, and the wig was so heavy I didn't want my auburn hairline to rear it's head during the party!
The make up is simple, I used white mascara, a white shimmering finishing powder to highlight cheekbones, forehead, chin and shoulders.
These costumes are high impact, especially Jadis, so many people wanted their picture with the White Witch at the Halloween Parade!