It's a Boy! Group Costume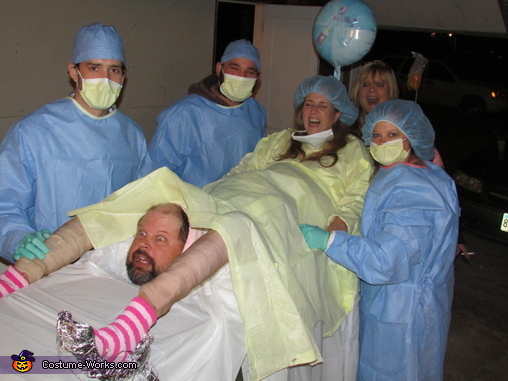 Its a boy!
A word from Tara, the 'It's a Boy!' costume creator:
The small town that I live in really gets into Halloween and I really wanted a great costume this year as the competition gets more intense every year. I did some research on the internet and finally came across this idea with only a couple of days to spare. I just had to add some additional creative ideas and some personal touch to make it look realistic. We started off with a folding chair rack (the kind that holds around 50 chairs) as we needed something on wheels. We then threw a board on the bottom to make a floor. We used a tall patio chair for me (the one in labor) and a small folding lawn chair for the "baby" and we secured them down with straps and budgie cords. We used things around our house and garage to build the rest. We used curtain rods for our railing along the "bed" and then cardboard to build around us with a bunch of zip ties to secure it. We used plastic table clothes for the sheets and aluminum foil to cover up the rest of the rack that was visible. We had to construct the fake legs by stuffing nylons with paper towels and putting slippers on the feet. We used wiffle ball catchers for the stirrups. We put that on the cardboard, and sat in our positions. I had also bought an "it's a boy" balloon and made an IV bag out of a Ziploc baggie and water with food coloring. We got some surgical gear and we were ready to go. The cost was a total of $6.00 for the table cloths and balloon I got at the local dollar store.