It's the Great Pumpkin, Charlie Brown Costume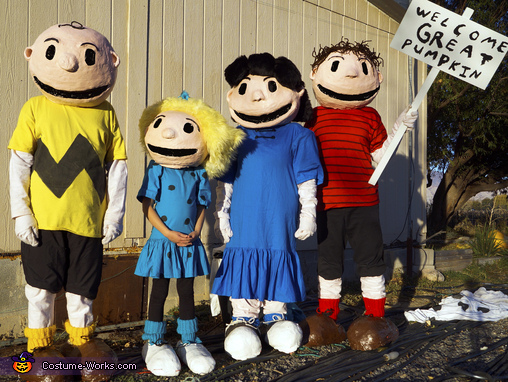 Welcome Great Pumpkin!
More views:
(click to enlarge)
A word from Brian, the 'It's the Great Pumpkin, Charlie Brown' costume creator:
Halloween is our favorite holiday of the year and some of my favorite cartoons growing up are still part of our family's Halloween traditions today.

This year is the 50th anniversary of the Charlie Brown Christmas Special and 2016 is the 50th anniversary of the Great Pumpkin. For us, the holidays haven't officially started until we watch these classics together.

This spring we decided to grow giant pumpkins. After preparing the soil, our patch has never been more ready for the great pumpkin. With a lot of work, it was fun to watch them grow a pound an hour during their peak growing season. Late September, our top two weighed in at 514.5 pounds and 305.5 pounds. We are now enjoying a lot of delicious pumpkin soup and pies from the 500 pound fruit, while dreaming of returning giants next summer.

We purchased two beach ball sizes--18 inches and 24 inches. My daughter is younger and smaller than the rest of our family and the larger size was too heavy and big for her to wear. The smaller ball size was very uncomfortable for anyone else to use.

We used three different recipes to form the heads using information from https://ultimatepapermache.com

Faces were drawn on the Beach Balls using proportions we saw on the comics and costumes used at Knott's Berry Farm. We then coated the balls with petroleum jelly to minimize sticking.

For strength, we formed the heads with a lightweight quick drying recipe that was reported to be stronger than just newspaper, flour and water

For additional strength, we used inexpensive muslin instead of the newspaper. When we were done, I think we used more than 20 yards of material to cover the heads and shoes. We returned to the store several times to restock.

This quick drying paper mache recipe used --
2 teaspoons of distilled white vinegar
2 Tablespoons water
½ cup of DAP Plaster of Paris
½ cup Elmer's Glue-All (or other PVA Glue)

The batch size was large enough to lay down several dozen strips of muslin before things started to harden in my mixing container

We formed three layers of this around the ball--nesting the screen material for the eyes, ears, nose and mouth between the last two layers. Each layer had to dry approximately a day before the next layer could be added. Trying to rush the process created problems as the structure would collapse under it's own weight.

We then formed the ears, lips and noses using the paper mache clay recipe as follows--
1 ¼ cup cheap toilet paper (measure the wet paper pulp after squeezing out excess water and use 1 ¼ cups)
1 cup joint compound. (We used a reduced weight product to keep the masks lighter)
¾ cup Elmer's Glue-All (PVA type Glue)
½ cup white flour
2 Tablespoons mineral oil
1 teaspoon bleach to prevent mold growth

We formed the paper mache clay around strips of muslin material and then secured it to the paper mache ball that was formed earlier. Trying to shape wet toilet paper was challenging. It would droop and fall apart often. We eventually adjusted the recipe slightly to decrease the toilet paper to 1 cup and add ¼ cup of DAP Plaster of Paris. It helped, but I do not think it was a perfect solution.

To create a nice smooth top surface we used the homemade Gesso Recipe from the same website--
½ cup Elmer's Glue-All (PVA Glue)
½ cup Drywall Joint Compound

After the Gesso Dried, we covered it with another layer of Gesso then sealed it with KILZ sealer and Primer. This was followed with glossy latex paint we found on sale at Home Depot. It was mismatched for someone's project, but it worked great for ours.

After that dried, we painted the black eyebrows and other facial details. Finer work was finished with black magic markers.

To prevent the heads from bobbing around, we filled the insides with insulating foam. This also helped align the eyes easier and distribute the weight so that it would be more comfortable to the wearer.

We then discovered that the glossy paint made the heads look cheap, cold and artificial. We coated the faces with a clear matte spray paint, which fixed the problem after drying.

Lucy and Sally's hair was created with fake fur purchased the fabric store. Sally's hair had to be dyed yellow with a temporary dye and washed lightly to get the right color. Sally and Lucy's hair was styled using gel and hairspray. Hair curlers, curling irons and other styling tools were used by my wife to get it to look right. The hair was sewn into the venting we created at the tops of the heads with needle and thread. A glue gun secured other points so that it would stay in place. We also secured yarn and pipe cleaners with a hot glue gun for Linus and Charlie Brown. These same techniques were used for shoelaces for the shoes of each of the characters

Socks were knitted by my sister for each of the characters to match the shirts and dresses of the characters. My sister also sewed the dresses for Lucy and Sally using fabric we purchased at a Labor Day sale from a local fabric store.

We painted the lines on Charlie Brown and Linus's shirts using black paint or magic markers. We had to carefully separate the front and back of the shirt with a board to prevent paint from bleeding through to the other side. We also had to paint the black polka dots on Sally's dress and hair ribbon.

We purchased some cheap white bed sheets at a Thrift store to create the ghost costumes for each of the characters We cut out eyes on each ghost and painted extra eyes on Charlie Brown's for better visibility at a distance.

To complete the illusion from head to toe, we created over-sized shoes with paper mache formed around stuffed bread and hot dog bags, following the same recipes above. We learned that walking with these shoes was very difficult unless we raised them slightly above our normal walking shoes . We secured them to our regular shoes with paracord We sprayed foam insulation inside the shoes and carved excess out as we formed them around our regular shoes

Shorts were sewn for Charlie Brown and pink skin colored felt material was used to create cartoon looking arms and legs. These were pinned to the shirts or pants to keep the full costume together. Linus used a black pair of pants with the legs rolled up and pinned at knee length.

Charlie Brown's iconic grocery bag full of rocks was set up to get a few laughs on stage. A slight pull of a cord would drop the rocks inside the bag to the stage floor. Black felt was also pasted to the back of his head to match the pumpkin pattern that he modeled for at the Halloween Party.

We created and painted a sign for Linus to welcome the Great Pumpkin. He also carried his trusty blue blanket at each of the events we attended.

We had a lot of fun interacting with both kids and adults wearing these costumes. We could hear the noise of people talking, cheering or clapping for us as we arrived at each location. A lot of families wanted photos taken with us everywhere we went. We missed a few contest stops because of the numbers of families that wanted photos taken with us.

Kids would come up to us to give us hugs, a high-five or shake our hands, One 4 year old wanted to adopt us and a six year old told us that we are his favorite toys. Another scolded Lucy for being the "mean one" all the time.

Our biggest Halloween surprise was meeting the Charles M. Schulz Family at the Thanksgiving Point Megaplex Theaters. We had no idea they would be there, but we had an opportunity to visit with them just before they flew to Los Angeles for the Peanuts Movie world premiere. Snoopy was to get his paw print on the walk of fame after the premiere. We had pictures taken with them, but more interesting was they wanted to have their pictures taken with us. The grand kids of Charles Schulz wanted to wear one of the masks and have photos taken of them wearing them. We talked about the new movie and the legacy Charles M. Schulz left for families worldwide.

Trick or treating was especially fun when we came to big Charlie Brown fans. Instead of rocks, we would receive extra big scoops of candy from the homeowners.

We participated in several costume contests and won almost every contest we entered. At the end of the season, winning or losing the contests did not matter much this year. We won in so many ways that I never anticipated.

We all won because we had the opportunity to be our favorite characters for our favorite holiday. We also discovered how beloved the Peanuts characters are and how a simple costume could make kids of all ages smile.