How To Train Your Dragon 2 Astrid Costume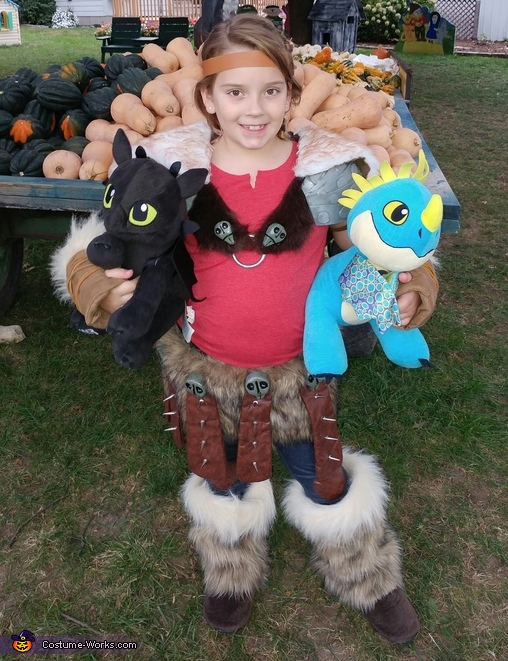 With Toothless and Stormfly
More views:
(click to enlarge)
A word from Jessica, the 'Astrid from How To Train Your Dragon 2' costume creator:
My daughter is dressed as Astrid. The How to Train Your Dragon movies are a couple of our favorites and she really wanted Astrid's look from the second movie. I watched it so many times while making the costume.
Finding the right color fur was tough. The skirt is 4 pieces sewn together because I couldn't find that color sold by the yard. The fur on the hood is from a shawl we picked up at a thrift store and sprayed with fabric paint. Everything is sewn by hand, as the faux fur is messy and having bulked up the armbands, they were too thick for my machine.
The shoulder pads are made from sheets of craft foam, cut, formed, and hot glued, then painted.
The spikes on the skirt I lucked out and found at Hobby Lobby. They gave exactly the look I wanted and save me from casting and painting a bunch of spikes.
The skulls I made 1 small and 1 large out of clay and then made silicone molds of those and cast them out of resin and then painted. They are screwed on and hot glued on for added security.
The axe her dad carved the head out of pink insulation foam and taped it up with masking tape. I then attactched it to a cardboard tube and added the skull at the end. Then painted it and added the fur and leather. The leather is the same as her head band. Just had to paint 2 pieces blue and pink to wrap on the head of the axe.
It was a very fun, but challenging costume. She loved it, very happy with how it turned out.