Hot Dogs 4 Sale! Costume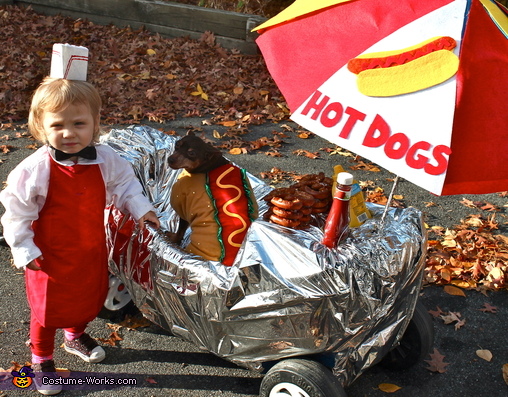 Hot Dogs for Sale!
More views:
(click to enlarge)
A word from Jennifer, the 'Hot Dogs for Sale' costume creator:
HOT DOGS 4 SALE!

Alyvia, my 21 month old daughter is dressed as a hot dog seller and Caiden, my 10 year old Miniature Pinscher is dressed as a hot dog sitting in a hot dog cart! They are the best of friends, so this costume combo was perfect for them!

How To:

Hot Dog Cart:

You will need a wagon of any size. Then, get a box to fit on the inside of the wagon and cut two holes into it (this is for the ketchup/mustard holder). Then place the box inside the wagon and tie it down so it doesn't move. Next, you need to get one large emergency blanket (silver) and cover the entire wagon with it and tape it down with silver tape (leaving some slack for the inside where the dog will sit. Also insert the ketchup and mustard in the holes while the cover is there to ensure the "pockets" for it are large enough). Now, to make the umbrella, I took an old umbrella and hot glued red and yellow felt over it. Then I made the hot dog/lettering and glued that down too. Attach the umbrella any which way you can to the cart. Then, bake some pretzels, let them harden over night and hot glue them on the shelf you made in the cart.

Costumes:

I actually bought the hot dog costume, BUT I hand made the hot dog seller hat (white felt, red fabric glue) and put together that outfit (large white toddler button up shirt, child red apron, black bow tie, red pants and any shoe).