Headless Bride Costume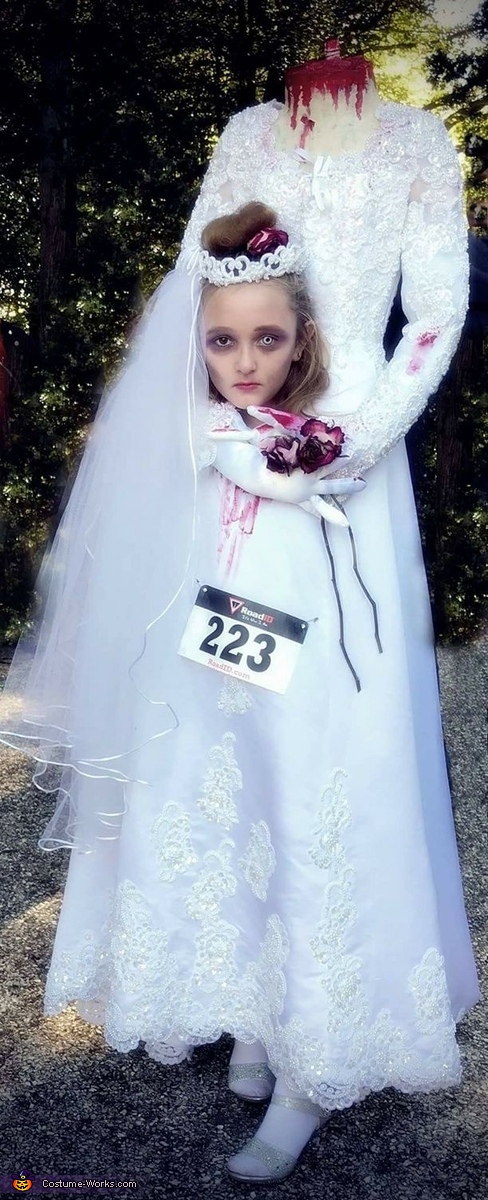 The bride herself
More views:
(click to enlarge)
A word from Denise, the 'Headless Bride' costume creator:
My 8 year old daughter Georgia is wearing the costume.
We were lucky enough to be given the dress so no cost there.
We put her in an old tshirt because we are going to cut it, then wrapped her upper shoulders, chest and arms in duct tape. This is my form. Once complete. I literally cut up the back. We repaired the form with more duct tape. We then did 10 layers of paper mache. We also gave the form breast since my 8 year old does not have them. My husband did not know he needed to sand it and when it dried the next day he began to paint it. This turned out pretty well since she is supposed to be dead. We painted her a flesh color. We stuffed the neck with paper towels and bags and painted red. We also used a bamboo stick for a neck bone. We then stuffed the arms with cotton and took gloves also filled with cotton and hot glued the form to the dress. Under the dress my daughter is wearing a book bag that is holding 2 pieces of bamboo. The bamboo is taped and clipped into the bag and then the bamboo slides inside the form. This gives the look like the upper body is moving. The straps of the book bag are held tighter by ribbon. We cut my daughters head out of the middle of the dress and safety pinned the hands under her chin. We then placed the veil on top of her messy hair. For added flair she is wearing only one zombie contact as if she is still half human. Her makeup is white and soft not zombie. Almost pretty.