Go Green Fairy and the Goodwill Goblin Costume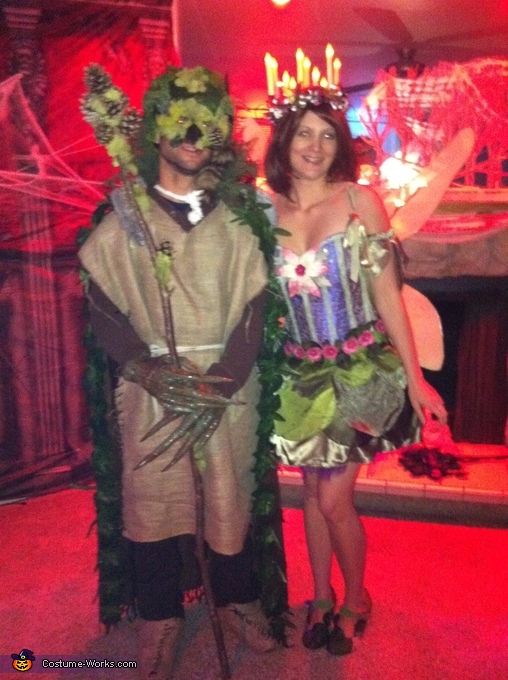 Go Green Fairy and Goodwill Goblin
More views:
(click to enlarge)
A word from Jen, the 'Go Green Fairy and the Goodwill Goblin' costume creator:
Jen and Kris are wearing this couples costume.

Both costumes were made basically from used items. The idea was to repurpose separate pieces into two cohesive costumes. RE-USE and RECYCLE.

Basic instructions:
Fairy
Glue leaves, flowers, lace, beaded ribbon, and Christmas ornaments to the corset, wand, and shoes.
Sew a circle skirt and arm bands and add remnant fabric shaped like petals.
Use nylons and wire hangers for the wings and add LED lights and flowers.
Fabricate the crown out of an old branchy Christmas wreath, shape it, and add metal butterflies.

Basic instructions:
Goblin
Glue leaves, fake fur, moss, pine cones, a witch nose, and burlap to the cape, crown hat, staff, mask, and shoes.
Use a burlap bag and sew with yarn at the top and sides for the over shirt.
Find an old brown long sleeved shirt and some old brown pants.
Spray paint any long fingered costume hands to match the costume colors.

As a final note - with whatever used items you decide to use, have fun and be creative!