Genie on a Flying Carpet Costume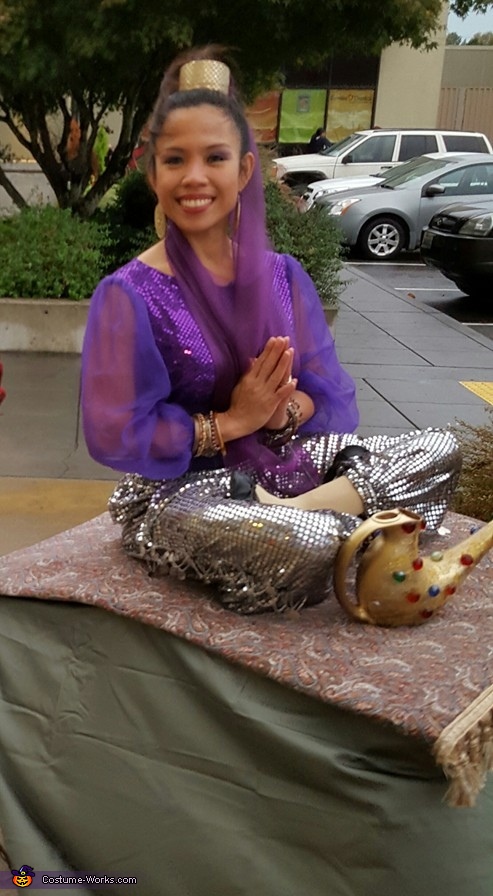 Genie on a Flying Carpet Costume
More views:
(click to enlarge)
A word from Rachel, the 'Genie on a Flying Carpet' costume creator:
We were watching Aladdin when I told my son I will make him a genie costume but make it more interesting-with a flying carpet!...but kids being as they are, he wants store bought costume. But I cannot get the idea out of my head so I decided to make it for myself. Thought it will be easy but I encountered some technical difficulties.Real carpet will be too heavy.
1.I got me a foam board and cardboard and garden bamboo stakes (dollar store)for a sturdier form then glued together. Cut a hole 2/3 at the back of the board the shape of my hips. This took some time and patience.Snug is better.
2. Got me thin batting from craft store and a thin fabric from thrift store with carpet pattern. Glued tassle at the end (got from thrift store throw pillow-I used the stuffing for the legs too).cut the body hole as well. Glued dark fabric around the carpet
3 garterized silk oversize payamas -lay the bottom to the carpet hole and sewn around the hole rim before cutting the pants hole. I paid gravely for this mistake.
4. form the fake legs using pool noodles, wire hanger, pillow stuffing and thigh high stockings and light weight shoes.
5.found a plastic watering can for $1 at thrift store - painted gold and put gems-instant lamp. Glued to the carpet.
6.I had issue with balancing the carpet so I used fishing lines and had it go through each folded legs and tied around my bracelet so I can support without holding the carpet.
6. accessorize myself using the round packing tape cardboard spray paint gold for the hair tie, $1 1/2 yard net scarf from the craft store, lots of gold jewelries.
Depending on your resourcefulness - I still spent about $20-$25 but the awe on people's face when they see you is priceless.