Frankenstein & the Bride of Frankenstein Couple Costume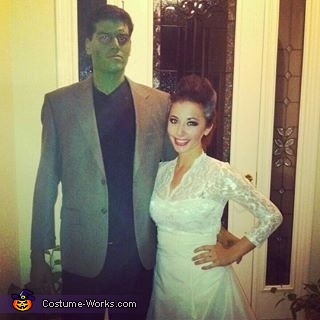 Frankenstein & Bride
More views:
(click to enlarge)
A word from Lindsey, the 'Frankenstein & the Bride of Frankenstein' costume creator:
I found green tubes of paint at Walmart and got the idea to turn my boyfriend into Frankenstein.
For his costume, I found a grey suit jacket at the thrift store for $3 and he wore it with a black shirt he had and black pants.
I also found the underskirt to a wedding dress for $20 at the thrift store which I wore with a white lace shirt.
We painted his face and neck green and used makeup to darken his eyes and make a scar on his forehead. We just drew the bolts on his neck, bc it was last minute :/
But for my hair I teased it as much as I could and pinned the back to make a huge hump. I sprayed it with black hair paint and layered on white stripes with hair paint over top of that. I used white powder on my face and lots of black eye shadow. Red lipstick was the finishing touch!