Eve from Wall-E Costume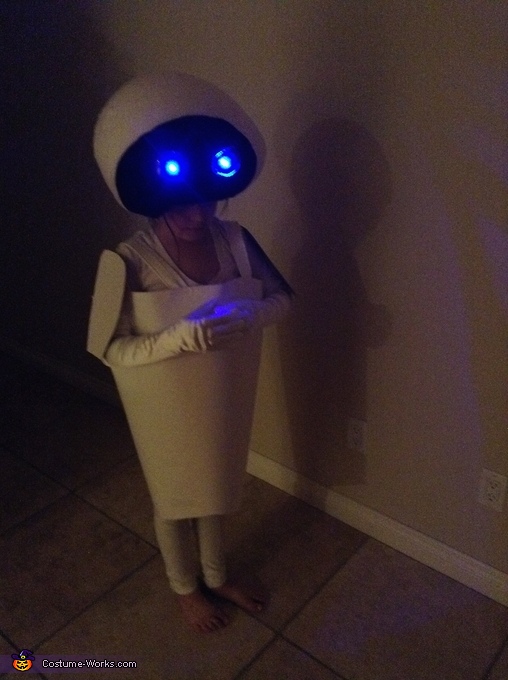 Lana's Eve
More views:
(click to enlarge)
A word from Jean, the 'Eve from Wall-E' costume creator:
My 8 year old Lana wanted to be Eve from Wall-E, and wanted to have the "coolest " costume, so we decided to make her Costume as close to the character as possible. We started with a large latex balloon for the head, applied paper mache to the balloon to create the head, and let it dry, then we searched for the "eyes" we found a gourd shaped water bottle and some blue lights for bicycle spokes at the 99 cent store. We used a soldering iron to cut the eye shapes out of the bottle, and took apart the lights (they were made to light with motion only) to alter the motion mechanism so they stayed lit. The paper mache was "lumpy" so we used felt to cover the head and create a smooth appearance, then we punctured holes in the head and fit the lights in, the placed blue plastic eyes over the lights using a glue gun. We then used her bicycle helmut inside the head shape to secure the head when wearing so it would stay steady and not be too heavy. The helmut fit perfectly as we had a "lip" on the inner edge of the head piece around the bottom. This was a quick easy fix (we initially used floral foam to form a head shape inside, but the head still moved and was unstable when worn).
The body was simply made from 3 small poster boards taped together, cut to form a cone shape and covered with a cotton/spandex blend fabric, we printed the symbol on the chest, covered with clear tape for lamination, and affixed to front with double sided mounting foam tape. Then we sewed the shoulder straps to the body and used no-sew velcro to close the back. We used a long sleeve white shirt and white long gloves (both bought on sale for 8 dollars total). We then cut the arm guards out of poster board and affixed the arms to the shirt using no sew velcro tape. We used an old LED flashlight for her "scanner" (the chest scanner) and affixed using the velcro.
She wore the costume to a Halloween party, and everyone loved it! They were so amazed that the eyes lit up and could not believe that we made it at home, all for a total cost of less than 15 dollars!