Emmet from The Lego Movie Costume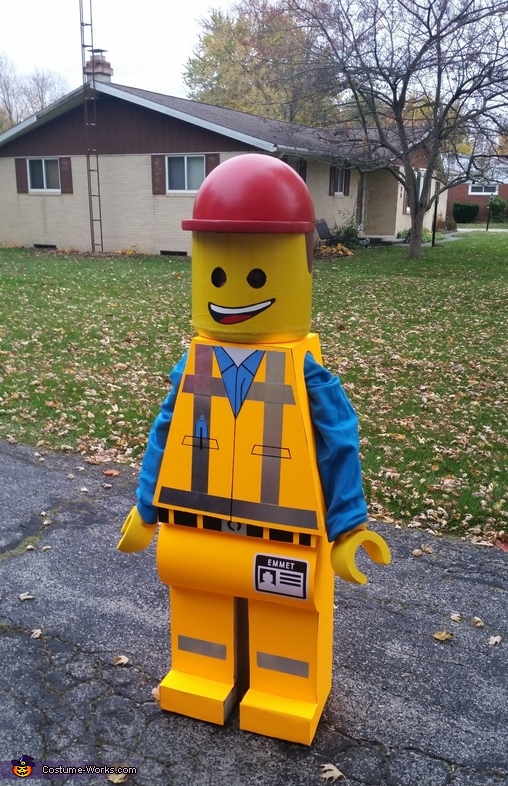 Emmet from The Lego Movie
More views:
(click to enlarge)
A word from Andrew, the 'Emmet from The Lego Movie' costume creator:
This year my son decided he wanted to be a Lego figure. I got the idea to be more specific and go with Emmet. He went nuts with the idea, which meant I had a lot of work to do.
I began by tracing him laying down on paper. I found a dimensioned picture of a Lego figure which allowed me to scale it up to my son's height. I then used the paper pattern to cut the cardboard panels. The legs were the most complicated due to the profile shape. To make walking a tad easier, the back panels of the legs were open at the corners. This created flaps that allowed more travel for my son's legs. The panels are held together with white glue and 2" masking tape, which gave enough structure to allow the glue to dry. The body was finished by covering it with orange poster board, attached with spray adhesive. The reflective stripes are "chrome" duct tape. The visible portion of shirt is blue poster board, which matched a sweat shirt he wore underneath. Pocket and shirt details were made with black marker. The belt is black duct tape, with more of the "chrome" for the buckle.
The hands are made from 1" thick styrofoam, glued three layers thick. The shape was cut with a hacksaw blade, and sanded smooth. The shapes were then glued to yellow knit gloves, at the first knuckle, which still allowed use of his hands for the treat bag. Making a fist left just the Lego hands visible.
The head is a 12" concrete form. The bottom radius is a styrofoam wreath form hot glued in place. The original idea was to sculpt hair, but I quickly opted for the simpler hard hat. It is comprised of more 1" styrofoam for the bill, and a hemisphere for the top portion.
Due to the effects of spray paint on styrofoam, all pieces were painted with brushed on acrylic. The mouth and hair were drawn and painted by hand also. The eye holes were cut out, and provided the only field of view. This led to the head being carried from house to house, and put in place at the door. In hindsight, it could have been velcroed to the top of the body.