Elsa and Anna from Frozen Costume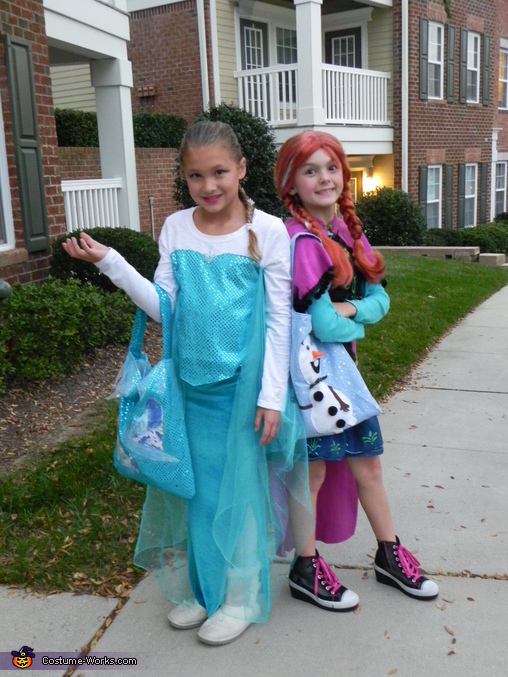 Elsa and Anna
More views:
(click to enlarge)
A word from Tyann, the 'Elsa and Anna from Frozen' costume creator:
My daughters, Gloria and Rosemary, are wearing the costumes. They love the movie Frozen and knew in November of last year that this is who they wanted to be. Both of these costumes are homemade. When I mentioned that I could get them store-bought, they both said NO WAY! You are making them so they will be original.

The girls and I went to the fabric store to pick out the perfect blue and shimmery, glitter, fabric. For Elsa I bought a white long sleeve shirt and decorated it with glitter glue and snow flake stickers. The skirt and cape are hand sewed stitch by stitch (we don't own a sewing machine). For Anna, my daughter picked out glow-in-the-dark 3D fabric paint to draw the flower designs. Wow, it is not easy to draw symmetrically. But I did it! The vest is hand sewn, too. But the jeans skirt and blue long sleeve shirt she already owned. The best part of the Anna costume was sewing the cape and adding the tassles. Oh and finding the perfect heart shaped clasp just like the animated character.

Back to Elsa, it just wouldn't be complete with the french braid to the side. And snowflake bobby pins. We made those ourselves by buying snowflake buttons and gluing them on to bobby pins. Gloria was proud of herself for making that part. And then spraying glitter hair spray. For Anna, my daughter wanted a red braided wig. I offered to make a wig out of yarn but she didn't think that would look as good. They both look very cute from head to toe.